Virtual AGM 2.0: Deutsche Bank is at the forefront
In less than four weeks' time, on May 27, our 2021 Annual General Meeting will take place. Due to the pandemic, our shareholders' meeting will again be held virtually. In preparing for it, we were able to build on the positive experience of our successful first virtual Annual General Meeting, which took place in 2020. At the same time, we have also developed the format further in the interests of our shareholders, by for example allowing a limited number of live speeches and follow-up questions this year. In addition, we will be broadcasting the entire AGM live and to the general public on db.com, including the general debate and the voting process.
In a joint interview with Jens Wilhelm of Union Investment in the "Frankfurter Allgemeine Zeitung" (FAZ), Stefan Simon, member of the Management Board of Deutsche Bank, discussed the experience with virtual AGMs to date as well as the future of these formats. Simon stresses the importance of shareholder dialogue – especially during the coronavirus pandemic. In the 2021 AGM season, our bank is the only company in the German-speaking world to facilitate a live dialogue with shareholders. In doing so, we are going far beyond the legal requirements.
We are using additional technological means to make the AGM even more interactive. It is important to us that our shareholders can exercise their shareholder rights in the best way possible, even during a virtual AGM. We are proactively trying out innovative digital forms of participation
One thing is certain: the pandemic has changed the way companies engage in dialogue with their owners and shareholder representatives for good. We are convinced that the virtual AGM format offers opportunities to significantly strengthen the exchange and exercise of shareholder rights. "Therefore, it is important to use the means that new and innovative technology offers and to create the legal framework to further develop the AGM in the interest of our shareholders," says Stefan Simon.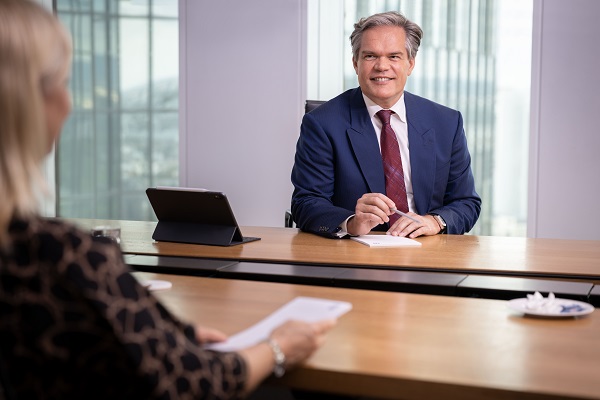 Mr Simon, how much are you looking forward to the Deutsche Bank AGM?
Simon: We are very much looking forward to this AGM, as we can put forward some innovative elements in this second virtual edition. But we also generally look forward to our bank's AGMs because, on the one hand, we consider them to be an important platform for exchange with our shareholders and investors. On the other hand, it is important that it takes place in public space, so to speak. An Annual General Meeting is always a reflection of how we as Deutsche Bank are perceived in society. This is direct feedback for us as management. And that is important to us.
But that is a very diplomatic answer. As a rule, AGMs are not exactly the most enjoyable experience for Management Board members.
Simon: Of course, such an event is also a challenge, among other things in logistical terms. Many processes are rehearsed and tested. In order to cope with the unique situation against the background of the pandemic, we are also trying out some new things. And we are looking forward to finding out what is accepted.
Mr Wilhelm, do you share this joy?
My joy is rather mixed. Of course, we always look forward to AGMs, which as a meeting of the owners are the public forum where we can exercise our shareholder rights. After all, as an investment company, we represent the interests of 4.8 million investors. Last year and this year, however, this has not been fully possible. These are already lost years for shareholder democracy. We cannot be satisfied with this and hope that this will change again soon.
Mr. Simon, what are you offering so that this will not be another lost year?
Simon: This year, for the first time, shareholders have the opportunity to speak directly at the virtual AGM, to exercise their right to speak via a digital channel. We are not talking about are not pre-recordings, but live speeches. There will also be an opportunity to ask follow-up questions. With this, we want to ensure more interaction. And of course we will again publish the speeches of our Supervisory Board Chair Paul Achleitner and our CEO Christian Sewing in advance. Shareholders can then respond by submitting their questions up to one day before the AGM – more than 360 questions were submitted and answered in 2020.
Mr Wilhelm, is the new offer enough for you?
Wilhelm: No. However, I welcome the fact that the management in companies is thinking about this and that Deutsche Bank is also going a step further than required under current law. But that is by no means the case everywhere.
What do you dislike?
Wilhelm: I would have liked to see more companies that are not merely guided by the minimum legal standard. That is a pity because they could have prepared for the new AGM season. Not much has been developed there.
What was the worst thing you saw?
Wilhelm: The Linde AGM was held largely away from the public eye and was over after 22 minutes – a sad record short time. This is also due to the fact that the company is legally domiciled in Dublin since the merger with Praxair. If British practices were to take hold at German AGMs, there would no longer be any public dialogue with shareholders. Last year, because of the COVID-19 emergency legislation, there was no right to speak and no right to ask questions, but only an opportunity to ask questions without having to answer the questions at all. All-in-all, many companies have distanced themselves from their shareholders and there has been a lack of transparency.
That will be better this year.
Wilhelm: But only gradually. We are already starting to see that the speeches are not being published in advance by all companies. Even questions during the AGM are not allowed by all companies, not to mention the right to speak.
Sounds like the digital AGM has failed?
Wilhelm: I think the entirely virtual AGM will not last. It is not a substitute for the face-to-face event. Digital elements can complement them, but no more than that.
Simon: It would indeed be a pity if many were only guided by the minimum standards. However, this is also due to the lack of legal certainty. No one wants to incur legal risks rashly. I can understand that. We deliberately took such risks last year, even by just publishing Christian Sewing's speech in advance.
Wilhelm: I can acknowledge that Deutsche Bank has created momentum in the positive sense there. But the courage is also well invested. It pays not to pull back simply out of convenience. Only through trial and error is further development possible in the first place.
You paint a very positive picture of how AGMs should be. Endless rounds of questions are part of the reality. Talks with the really important investors take place in completely different circles.
Simon: Of course, AGMs are very regulated by legal requirements. Nevertheless, the Annual General Meeting remains an important dialogue with shareholder groups that we cannot meet several times a year. Their perspective is also an important indicator for us. Moreover, it is not the task of the management to evaluate the debates or the questions at the annual general meeting. It is not up to us to decide which content is important or less important. Our task is to organise and carry out a legally sound AGM, everything else is in the hands of the owners. For example, deciding how they want to use the naturally limited time and what they want to talk about with us.
When it comes to voting behaviour, you already know which points could be difficult thanks to the talks prior to the AGM.
Simon: That is no longer the case. The weights in the AGM have shifted in recent years, there are more shareholders who look closely and check point by point which proposals they agree with and which they do not. This does not always have to result in non-ratification of the actions of the Management Board members. But we do notice when there is a headwind on an agenda item at the Annual General Meeting.
Wilhelm: Both are required – the discussions with the chair of the Management Board, the chief financial officer and the chair of the Supervisory Board behind closed doors during the year and the public debate at the AGM. Only here can shareholders reach the entire Management Board and Supervisory Board as well as fellow shareholders with their concerns at the same time. Everyone has to put up with the fact that the general debate can sometimes take longer if there is a lot to discuss. This is certainly an exhausting process, but it must result in the curtailment of shareholder rights. Otherwise, the shareholder culture in Germany will also suffer.
But for the companies, the virtual aspect requires much more work. There will be many more questions and follow-up questions.
Simon: We have indeed observed: the number of questions has increased threefold. Incidentally, this is also a major reason why we had to limit the block of live speeches in this year's AGM. We have to answer the high number of questions asked in advance at the AGM. Then only a smaller part of the time remains for the speeches and follow-up questions, which we now allow voluntarily.
Is that fair?
Wilhelm: It depends on how the companies organise it. With a speaking time of 1:30 minutes, as some companies do, that is already difficult. A real dialogue is hardly possible in that situation, and that's why I don't believe in the entirely virtual AGM.
Simon: I have a more open view of that. This has something to do with technical innovations that make it possible for many more shareholders to participate at all.
So you don't necessarily expect a hybrid future?
Simon: I want to sit on the fence on that point. I want to gain more experience first.
Wilhelm: I remain sceptical. We think it makes sense to consider the face-to-face AGM as the legal norm and to extend it digitally instead of taking the entirely virtual AGM as a blueprint for the future. It can only be a stopgap solution in the coronavirus crisis.
Simon: We spoke earlier about the relevance of the AGM. It would be exciting to see if we could give the AGM even more relevance in the future with more innovative ideas.
What are you thinking about?
Simon: It is technically possible to feed the questions into an online tool that is accessible to every shareholder. On the basis of "one share, one vote", the AGM can then decide what is important to the shareholders. This gives a prioritisation that reflects the will of shareholders and investors.
Wilhelm: I don't think that would make sense. Then the majority would decide what is discussed. This is not a broad debate.
Simon: But if you see it that way, then you also have to live with limited speaking times.
How does it work with the speeches that are delivered live?
Simon: We have planned an hour for this. That is enough time for 20 shareholders, who each have 3 minutes. We give 5 institutional and 15 small shareholders the opportunity. If more than 20 register, the decision will be made by drawing lots.
That could mean that Union Investment is not included. What do you think about that?
Wilhelm: Of course, this approach does not make sense, and I am certainly not just saying that for Union Investment. That is not the point of AGMs and shareholder democracy. I see the organisational constraints that can come with the purely virtual format. That is also why I am so sceptical about the future of this format.
Simon: There is no right to speak endlessly at the face-to-face AGM either. There the speaking time and the list of speakers can be limited. In the past, companies such as Deutsche Bank regularly had to make use of this option because otherwise it would not have been possible to complete the AGM on the same day.
Wilhelm: That's true, but it always happens when there is really a lot to talk about. Now, however, the discussion is limited, even though it is not yet known what will be discussed.
What would you like to see in the future?
Wilhelm: After the AGM season, all those involved should sit down together and consider and discuss what the AGM of the future should look like. We are ready for these discussions.
Simon: So do we, and I hope that we conduct this dialogue in an open and unbiased way and with an openness to technology. So that in the future we have AGMs that ensure legal compliance for us as companies, but above all take into account the needs of the owners.
Interview conducted by Tim Kanning and Inken Schönauer.
© All rights reserved. Frankfurter Allgemeine Zeitung GmbH, Frankfurt. Provided by the Frankfurter Allgemeine Archiv.
Further links on the topic