Deutsche Bank and CHIO Aachen
As a partner of the CHIO Aachen since 1955, Deutsche Bank presents a highlight of the demanding art of dressage, the internationally renowned Deutsche Bank Prize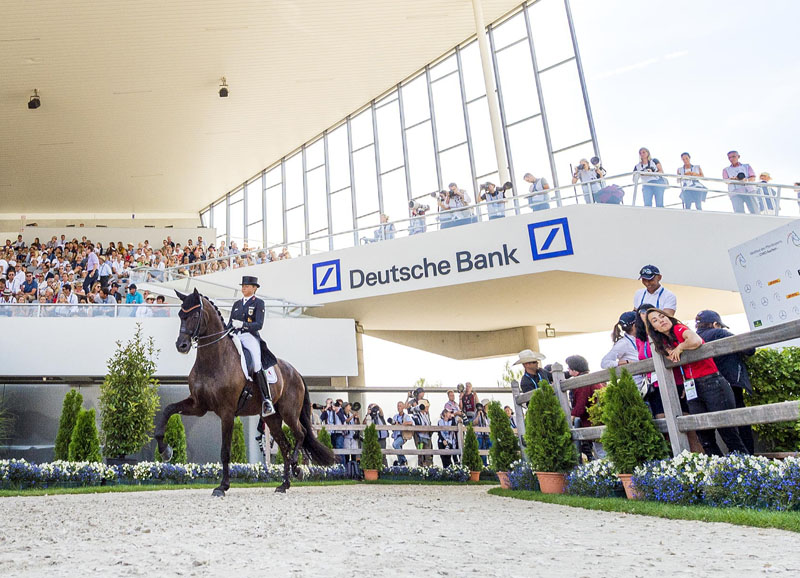 Deutsche Bank, the main sponsor, has been supporting the world's most prestigious equestrian event since 1955, making it the Bank's longest-standing commitment to the world of sports. In 1980, the Aachen Grand Prix de Dressage of Aachen, which had been held annually for 25 years and sponsored by Deutsche Bank, was renamed the Deutsche Bank Prize, Grand Prix Dressage of Aachen, Grand Prix Freestyle CDIO. And in 1999, Deutsche Bank Stadium was created as a unique setting for dressage riding. Since 2014, a new grandstand has provided 6,300 spectators with the opportunity to watch one of the most important dressage competitions, in which the world's elite riders vie for the highest endowed dressage prize ever.
Isabell Werth, the winner of the Deutsche Bank Prize 2019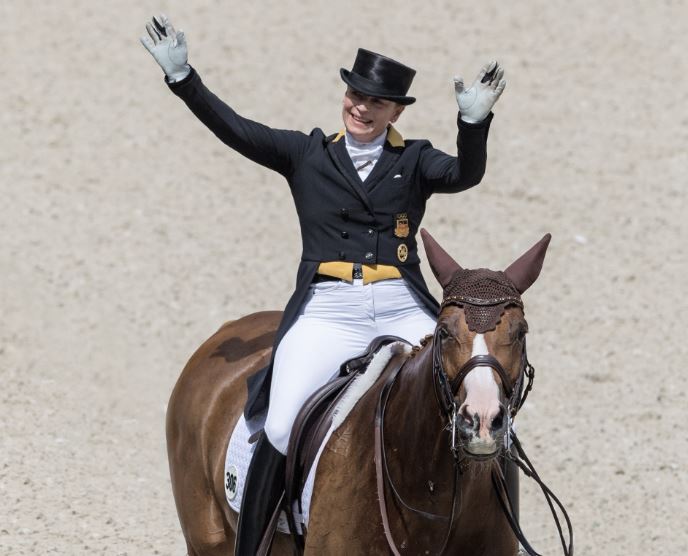 For the third time in a row, the exceptional dressage rider Isabell Werth won the Deutsche Bank Prize at the CHIO Aachen. In front of some 7,000 enthusiastic spectators, the record rider not only celebrated her 50th birthday at the 2019 event, but also her 13th triumph in Deutsche Bank Stadium at the Soers in Aachen.
With a technically and choreographically superlative freestyle routine on the 15-year-old mare Bella Rose, Isabell Werth relegated fellow dressage riders Dorothee Schneider and Jessica von Bredow-Werndl to second and third place in the exciting final. To a medley of Beethoven compositions, horse and rider put on a flawless show, for which the judges awarded the new top score of 90.450 percent at the end.
Carl Meulenbergh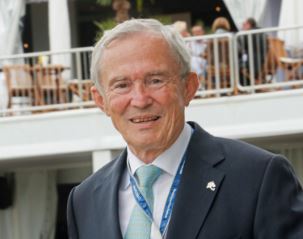 "Since 1955, Deutsche Bank has shared our passion for equestrian sports. Together we have not only accompanied the CHIO Aachen, but also helped develop dressage a little further. Thanks to the commitment of this exceptional partner, this sport, which stands for partnership and precision like no other, has been given a spectacular setting with Deutsche Bank Stadium."
Carl Meulenbergh
President of the Aachen-Laurensberger Rennverein e. V.
Copyrights:
Art works: © VG Bild-Kunst, Bonn 2021, PalaisPopulaire: © Matthias Schormann, Artist of the Year: © Caline Aoun, Deutsche Bank Collection: © Photo: John Wildgoose, © Keith Tyson, Berliner Philharmoniker: © Monika Rittershaus, © Martin Walz, © Michael Trippel, English Theatre: Photo Christian Muth Junge Deutsche Philharmonie: Photo Achim Reissner, Musikgymnasium Schloss Belvedere: Photo Gerold Herzog, Deutsches Romantik-Museum: Photo Alexander Paul Englert, Akademie Musikgymnasium heute: © Jörn Kipping, Deutscher Buchpreis: © vntr.media, Opernstudio Frankfurt: © Wolfgang Runkel, Villa Romana: Photo Giulia Del Piero