A stronger bank through diversity and inclusion
Explore how we put diversity and inclusion at the heart of what we do.
We remain committed to driving positive change for our people and for society as a whole. As transparency drives change, the bank set and published aspirational goals for the representation of women in leadership positions worldwide and for increased representation of Black employees in the US. Goals are part of the "Balanced Scorecard" for specific top management levels of the bank and form part of performance evaluation and compensation.
Our commitment remains strong to drive positive change for our people and for society at large.
At Deutsche Bank, we are dedicated to creating an environment where everyone feels a sense of belonging. A place where our people feel welcomed, accepted and have the opportunity to contribute and thrive. A place where high-performing teams have different skills, backgrounds and experiences. And where leaders create opportunities for collaborative interactions, encourage speaking up and invest in giving and requesting actionable feedback.
Diversity and inclusion should be a natural part of how we conduct business and engage with our clients and society.
The bank's commitment to diversity and inclusion goes beyond Human Resources and is part of the bank's Environmental, Social and Corporate Governance (ESG) strategy and our Human Rights commitments. For us, diversity and inclusion are truly embedded across the firm.
Diversity and inclusion are success factors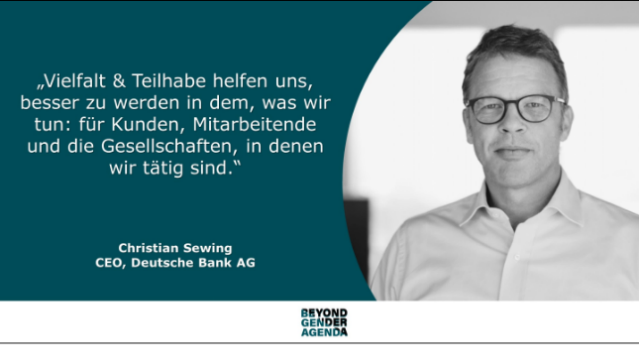 "Diversity and inclusion help us to become better at what we do: for clients, employees and the societies in which we operate."
BeyondGenderAgenda initiative