How we drive diversity and inclusion
Diversity is a fact, inclusion is a choice.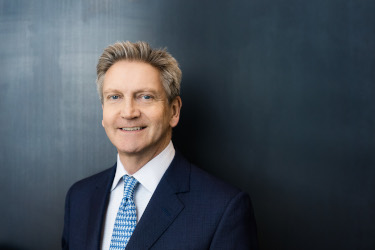 Throughout 2020, we continued our journey to embed diversity and inclusion in our culture and people practices. Our initiatives included supporting the advancement of women and members of other under-represented groups through targeted outreach to attract and hire, and to enable enhanced career planning, leadership development, exposure opportunities and senior leader sponsorship. We continue to equip our people with resources to practice inclusion and how to interrupt unconscious bias in people-related decisions.
Advancing women in leadership positions
We see better gender balance as a business imperative. We articulate our gender-specific ambitions and measure our progress because we know that a more gender-balanced workforce enables (or delivers) sustainable growth.
Deutsche Bank firmly believes that improved gender balance in leadership roles will meaningfully contribute to its future success.
30% of the Supervisory Board members are women
20% of Management Board members in 2022 are intended to be women
Throughout 2020, Deutsche Bank continued its efforts to advance women in the workplace. With six women on the Supervisory Board, the figure stood at 30% at the end of 2020 (2019: 35%). This meets the statutory requirement of 30% for listed and co-determined German companies under the gender quota legislation introduced in 2015.
The Supervisory Board's latest goals for the Management Board were set in 2017 – to have at least 20% women by June 30, 2022. Given a Management Board size of between eight and twelve members, two women are required to achieve this goal. Within the respective Suitability Guidelines that include Diversity Principles, the Supervisory Board is working towards the 2022 target.
In accordance with German Gender Quota Law, the Bank set goals of 20.0% (at first management level below the Management Board) and 25.0% (at second management level below the Management Board) for December 31, 2020. Since the target of women at the two levels below the Management Board was set in September 2015, relevant conditions have changed.
These include changes in the context of the transformation of the Bank, which was decided in July 2019, and the decisions regarding the IPO of DWS and the merger of DB Privat- und Firmenkundenbank AG into Deutsche Bank AG. With 20.0% women at the first management level and 23.9% women at the second level below the Management Board, the voluntary goals, as of December 31, 2020 have only partially been achieved.
The Management Board remains committed to increasing the representation of women in leadership positions. The Bank's voluntary goals for female representation remain unchanged and focus on the top three corporate titles (in headcount terms): Managing Director (21%), Director (28%), and Vice President (35% excluding Postbank). These goals form part of the key performance indicators on the "Balanced Scorecard" assessing the Management Board and Group Management Committee, and are designed to strengthen the pipeline of women at two levels below the Management Board.
Focused initiatives that impact the full employee lifecycle spanning Talent Attraction, Talent Development and Promotion are in place to accelerate change.
As of year-end 2020, women comprise 18.4% of Managing Directors, 25.1% of Directors and 32.4% of Vice Presidents.
Goals and results for the representation of women
Goal
Result as of Dec. 31, 2020
Result as of Dec. 31, 2019
Result as of Dec. 31, 2018

Level (head­count in %)1

Supervisory Board
30.0
30.0
35.0
30.0
Management Board
20.02
10.0
0.0
11.1
Management Board Level-1
20.0
20.0
19.7
20.8
Management Board Level-2
25.0
23.9
19.5
20.9

Corporate Title (head­count in %)3

Managing Directors
21.0
18.4
18.3
18.1
Directors
28.0
25.1
25.1
24.5
Vice Presidents4
35.0
32.4
31.4
31.2
Assistant Vice Presidents & Associates
40.6
40.6
40.2
Non Officers
59.9
59.6
59.8
Total women
46.4
46.3
46.2
Women staff by year-end 2020 including promotions beginning of 2021:
We ran an internal campaign on International Women's Day 2020, asking our employees about their personal and professional contributions to pick up the pace on gender diversity (#EachforEqual). We received a large number of submissions, by men and women, making it one of the most successful internal campaigns so far on our internal #PositiveImpact hub.
#PositiveImpact
Show your support for International Women´s Day.
Supporting cultural diversity
As globalization connects countries, economies and people, cultural diversity is a way of life at Deutsche Bank.
We operate in 59 countries worldwide and have a workforce that includes 151 nationalities (2019: 140, 2018: 146). Global demographic shifts highlight the importance of multicultural inclusion. We are proud to have a workforce representing a multitude of citizenships and national identities, with different ethnicities, nationalities, races, sexual orientations, gender identities and expressions, heritages and cultures of our employees enriching the work environment.
151
nationalities
59
countries
Everyone, including members of historically marginalized groups, is encouraged to bring their whole self to work. However, we know we have not made sufficient progress in certain areas, particularly on racial and ethnic diversity. The tragic instances of overt racism in cities across the United States of America in 2020 have had a profound impact on driving change in improving racial and ethnic diversity in the workplace.
Following our listen – learn – change approach, we established an ambitious program of conversations, open-door sessions, leadership series, training and other opportunities for our employees to engage on diversity and inclusion topics. We promote a speak up culture in which our people feel encouraged to call out micro aggressions and unconscious bias.
We have outlined specific steps to advance our inclusive culture and our racial and ethnic diversity, beginning in the US and the UK. These steps include holding courageous conversations, improving diversity in leadership, development and advancement, and changing our hiring practices:
Through a combination of leadership development and senior leader exposure, the Bank is supporting the development and professional growth of under-represented minority talent, e. g. dbBOLD.
The Bank announced aspirational goals to increase the number of Black colleagues at the Bank's two highest title levels in the US by 50% and increase the proportion of Black talent in our graduate programs to 10% by 2025.
Dialog, debate and sharing of experiences are invaluable ingredients in solving racial inequality.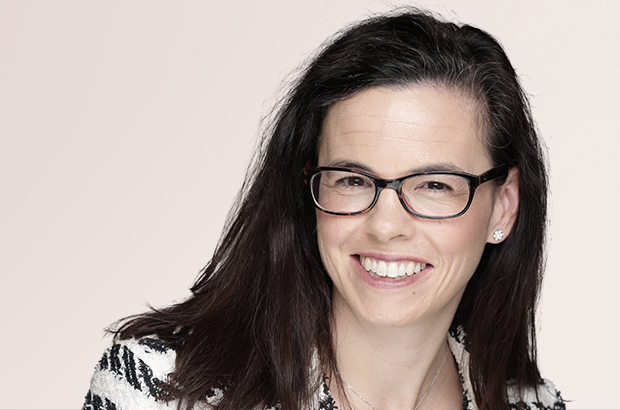 Supporting the dignity of LGBTQI people
In 2020, we continued our commitment for human equality, dignity, and inclusion of LGBTQI people globally.
LGBTQI (lesbian, gay, bisexual, transgender, queer, intersex) inclusion is an important priority for the bank. We have taken strong public advocacy positions, engaged in meaningful conversations with a variety of leaders around the world, and supported our LGBTQI colleagues and their loved ones.
Our long-standing Ally program is one of the ways the bank supports LGBTQI people. Allies are individuals who do not necessarily self-identify as members of the LGBTQI community but who are willing to be visible champions of LGBTQI employees and their loved ones. As a result, LGBTQI employees feel affirmed and included in the workplace, are happier and more productive.
We continued to intensify our collaboration with coalitions and influential platforms, advocating a more inclusive and just world.
Inspired by our dbPride Germany ERG, rainbow flags were permanently added to the entrance areas to the Bank's retail branches and finance agencies in Germany as a sign of our commitment to Diversity & Inclusion in the workplace and in society – in total over 900.
Together with our LGBTQI colleagues we celebrated worldwide and in various ways a virtual LGBTQI Pride, due to COVID-19, supported by our internal #PositiveImpact campaigns "Celebrating Pride wherever we are" and "Go purple at home" for International Day against Homophobia, Transphobia & Biphobia (IDAHOTB).
Promoting inclusion across generations
With a range of generations represented in our workforce, we benefit from different generational ideas and perspectives.
Often, the priorities of each generation can differ – in terms of required benefits and support for various life stages as well as the opportunities we offer our employees at every stage of their career.
We also know that different generations have different needs. Employees continue to receive support to match all circumstances, for example family responsibilities from childcare to elder care, a range of flexible working and wellbeing options and employee benefits to suit different career stages. More about Reward/Benefits & Wellbeing
As of year-end 2020, 29.6% of the Bank's workforce was 49 years of age or over (2019: 29.2%), with the youngest group of employees – up to 29 years of age – accounting for 14.9% (2019: 15.1%). The average age in Germany was 46.1 years (2019: 45.5 years) which, along with the average length of company service, is significantly higher than in other regions.
To be successful, we need to bring together different experiences, skills and insights. At Deutsche Bank, we challenge generational bias and stereotypes – and believe everyone has a part to play in our transformation.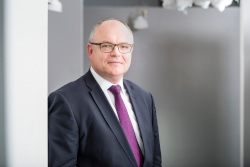 in years
| | | | |
| --- | --- | --- | --- |
| | 2020 | 2019 | 2018 |
| Germany | 46.1 | 45.5 | 45.6 |
| Europe (excluding Germany), Middle East and Africa | 42.1 | 41.6 | 41.3 |
| Americas | 41.5 | 41.5 | 41.2 |
| Asia/Pacific | 35.7 | 35.4 | 35.0 |
| Total | 42.6 | 42.3 | 42.1 |
As an example, we facilitate cross generational collaboration and dialog that allow us to learn from each other on equal terms. Our "Reverse Mentoring Programs" driven by regional ERGs, alongside wider platform-based reverse mentoring offerings, help us strengthen the exchange between different generations.
Our ERGs actively promote generation-spanning topics and events, for example such as panel discussions with senior leaders relating to future of leadership or on the topic of climate change and its impact on the banking industry.
Creating an inclusive working environment for people with disabilities
Deutsche Bank is working to ensure we attract and retain people with disabilities and we remain committed to supporting the mental health and wellbeing of our workforce.
Deutsche Bank is for everyone, and I am personally committed to making inclusive working practices part of our culture.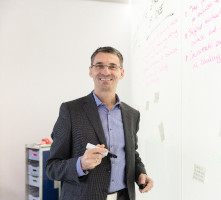 In addition to meeting workplace needs of all employees such as accessible workstations and accommodations, we continue to provide accessible entrances, elevators, restrooms and parking. Flexible working options are available to those needing short or long­term flexibility due to health or a disability.
Through its successful and longstanding cooperation with the Association of Sheltered Workgroups (Genossenschaft der Werkstätten, GDW) in Germany, the Bank also ensures a number of external jobs for people with disabilities.
Under the sponsorship of Bernd Leukert, Chief Technology, Data and Innovation Officer and Member of the Management Board and with the support of our ERGs, we continued to strengthen our focus on people with disabilities.
On International Day for Persons with Disabilities, Deutsche Bank staff shared the challenges of living and working with hidden disabilities.
6.4%
employees with disability in Germany
vs. 6.1% in 2019