Apprentices and dual students
At Deutsche Bank, we offer a variety of apprenticeships and dual study programs. The concepts and processes are developed and coordinated by our overarching team of apprenticeship and junior talent for the brands of Deutsche Bank and Postbank. The recruitment and marketing differs for both brands due to different distribution channels and job profiles. As in prior years, it has remained challenging to find suitable applicants that want to pursue an apprenticeship instead of pursuing an academic degree.
In 2021, we were once again recognized by the business magazine CAPITAL, together with the school leavers platform 'ausbildung.de', in the area of dual vocational training and dual studies as one of the best companies offering this training in Germany.
Find out more on our Postbank Karriere Channel and our Deutsche Bank Schüler-Karriere Channel on Instagram.
Building on the fully virtual approach to practical and theoretical training from 2020, we hosted the 530 early career talent of our class 2021 in our second virtual introductory week. We started to implement parts of the blended learning concept we created in 2020 in cooperation with the Chamber of Commerce and Industry for bankers and IT to/into all other apprenticeships in 2021.
Virtual events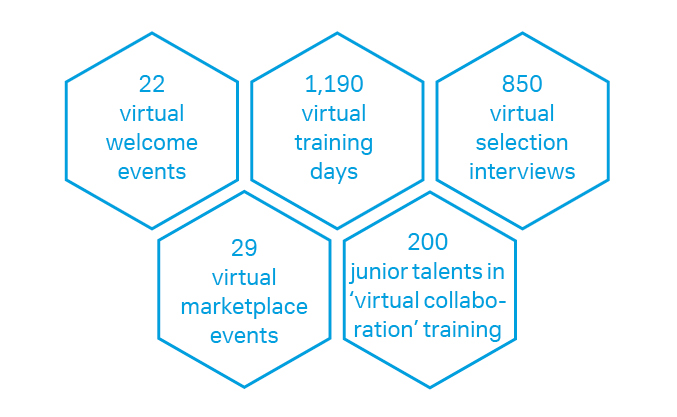 In 2022, while retaining the Postbank and Deutsche Bank brands, we will develop shared communication and training platforms. This will also include a further drive to digitalize our evaluation processes and qualification certificates.
In order to retain early career talent beyond their apprenticeships and dual studies, we focus on individual strengths and interests and provide flexibility. We offer part-time studies (for example dual master-programs or working student activities), as well as accompanying programs for early career staff.
In 2021, we hired 530 apprentices for our 15 apprenticeship and dual study professions of Deutsche Bank and Postbank (2020: 570) out of the 20,500 who applied. In 2021, 379 of the apprenticeship and dual study graduates accepted an offer of employment (2020: 364).
Apprentices in Germany (incl. dual students)
| In headcount if not stated otherwise | 2021 | 2020 | 2019 |
| --- | --- | --- | --- |
| Number of apprentices | 1,348 | 1,444 | 1,499 |
| Female share of apprentices | 40.6% | 42.0% | 41.9% |
| Apprentices ratio | 4.1% | 4.2% | 3.6% |
| Hired apprentices | 530 | 570 | 667 |
| Takeover of apprentices into employment | 379 | 364 | 394 |
| Share of apprentices taken over into employment | 61% | 63% | 63% |
| Expenses for apprenticeship programs in € million | 34 | 39 | 37 |
| Ø Expenses for apprenticeship programs per employee (apprentice) in € thousand | 27 | 29 | 28 |
The apprenticeships of both brands are aligned to the following three pillars:
Expertise and theoretical content by vocational schools and renowned partner universities is deepened by structured training of various educational partners. Digital and in-person content is combined. The preparation for the final exams is supported with customized seminars.

All of our apprentices and dual students go through different areas of responsibility and teams during the practical phases to gain a broad overview of all relevant topics. We support the learning process with subject-specific training, virtual training modules, and workshops. This ensures a comprehensive transfer of knowledge from theory to practice

Personal responsibility and motivation are essential parts of our concept. Apprentices and dual students are encouraged to deal independently with vocational training content and to approach their own behavior critically and constructively. Early career staff members are given the opportunity to think outside the box in professional or social projects, in workshops or regional exchanges.
In Germany, Deutsche Bank offers 9 apprenticeships and 6 dual study professions: