Foster mental health by providing preventive support for issues such as stress, depression and anxiety
Amid rising demands in the day-to-day work of our employees, and as additionally outlined in the section "Managing the unexpected crisis", we have placed particular focus on mental health by providing active support – both to those affected and to those closest to them. We actively encourage employees to prioritize their mental wellbeing with a number of tools and resources available in each region.
Supporting a positive and open culture on mental health by raising awareness through understanding, acceptance and information

Range of targeted support for those with mental health issues to enable active participation in life and work e.g. mental health 'check'
Encouraging peer support e.g. Mental Health First Aiders (MHFAs) as a way of providing guidance and advice during the early signs of stress
Wellbeing resources e.g. self-care apps, webinars, mindfulness

In support of World Mental Health Day, we provided online events across the globe to discuss the topic of mental health and reduce the stigma associated with it, with the ultimate goal of fostering a healthy, inclusive work environment.

In APAC, the first video was released, where employees shared their experience to combat mental health issues. To the same end, the Employee Assistance Program (EAP) is available day and night, all year round, for employees to speak to a counsellor or expert confidentially on concerns around family, relationships, stress or financial woes. The EAP also serves as an important resource in crisis situations, such as natural disasters, epidemics or other threats to public safety.

Former Postbank employees benefit from free access to Deutsche Post DHL social counsellors for all health related or personal concerns.

Structures in place to provide support to individuals in time of need

Employee Assistance Program (EAP) and professional counselling services
Mental Health First Aiders (MHFAs) or equivalent (location appropriate) when stress becomes overwhelming and employees need immediate guidance

As outlined in the section "Managing the unexpected crisis", our MHFA program in the UK & Ireland, Singapore and Australia continues to lend support. Mental Health First Aiders are not medically trained therapists or psychiatrists, but colleagues who can offer emotional and practical support through non-judgmental listening and guidance, and can point employees to existing resources.

Following the success of the various events, activities, articles and panel discussions that took place to highlight World Mental Health Day, global interest in MHFA training has gained momentum across the bank with further countries now actively looking at introducing programs. In India, currently 23 Mental Health First Aiders are being trained to be part of this program.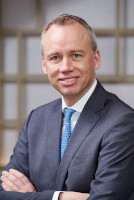 In Asia Pacific, we are proud to have deployed various mental health programs for our people in 2020, including launching a Mental Health First Aider support network in India. We saw first-hand how valuable this additional support layer was for our Bank as COVID-19 presented personal and professional challenges.
Alexander von zur Muehlen, CEO Asia Pacific and Member of the Management Board