HR Report Q&A
Fabrizio Campelli & Michael Ilgner
In conversation about the people strategy at Deutsche Bank.
COVID-19 meant that 2020 did not turn out as we expected and was very challenging. On top of this, Deutsche Bank had to continue on its ambitious transformation. What did you learn?
Fabrizio: The pandemic confirmed how resilient, committed and adaptable our people are. We expected some disruption when we transitioned almost completely to working from home, but the way we managed to support clients and deliver on all our transformation goals for 2020 was truly impressive. There is a real determination among the people in our Bank to succeed and complete the turnaround.
Michael: It was great to see how both our people and their managers quickly adapted to a completely new working environment in many areas of our Bank. Our annual People Survey told us once again that a clear and decisive strategy, regular conversations and genuine care and concern help motivate our staff and create trust in the organization.
Our businesses look to us as an HR team for advice, especially in challenging times. In consultation with them, we set out our strategic pillars along the priorities of strengthening leadership in the Bank, developing our people for future needs, putting employees in the right roles and ensuring the right behaviors.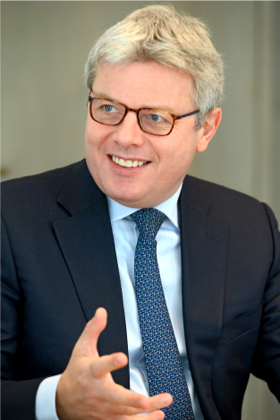 The way we managed to support clients and deliver on all our transformation goals for 2020 was truly impressive.
- Fabrizio Campelli, Chief Transformation Officer and Member of the Management Board
What was the key ingredient to the success of 2020?
Fabrizio: There were many factors that contributed to our Bank having a strong year in 2020. Some external factors, such as the markets and volatility, played to our advantage and some played against it, like interest rates and the credit environment. Nonetheless, the hard work of our people over the past few years, their dedication and resilience to keep us on track, and their deep motivation made all the difference.
What has been critically important during this period has been that the support of our people has manifested itself across the entire Bank. Everyone pulled together. I am personally grateful to all of our people who made that happen. In particular, Michael and I really value the open engagement and dialog we have with the workers representatives and the role they played in 2020.
Do you feel the experience of 2020 has meant employees have reassessed what matters to them in the workplace?
Michael: The same topics matter, but perhaps in a different order of priority. Our people want flexibility and to be trusted. They want to be able to speak up when they have a concern or need support. They want reliable technology and a range of collaboration tools to stay productive. And they want to be appreciated and have access to the same development and career opportunities.
Fabrizio: In an office environment, some of these priorities are more straightforward and so were not given the same consideration. When we work remotely, the blurring of work and home life can result in fatigue and burnout. Being unable to collaborate in person makes technology more important. Visibility in the traditional sense is much more difficult when you work remotely. But we must not forget those who have needed to continue working in the office or in branches. They will also not have experienced the usual interactions, with the added concern of risking their health.
Given these challenges and the shift to more flexible working, how much adaptation is needed to progress in future?
Michael: We think the best way to progress within Deutsche Bank is to focus on continuous improvement and the tasks that have a clear positive impact on the Bank's transformation goals. To enable our people to be more successful, we want to strengthen a "learn-it-all" culture, where you are able to adapt and drive change. To do this, we as an employer must provide the right training and development tools in a range of formats and with different time commitments For example, we have used shorter videos, more online training and podcasts to encourage continuous learning.
Importantly, everyone needs to be convinced they can grow and be successful, and this is not limited to a select group of individuals. This requires our leaders to accept they do not have all the answers and to empower their teams.

Everyone needs to be convinced they can grow and be successful, and this is not limited to a select group of individuals.
- Michael Ilgner, Global Head of HR
How does this mentality help the bank's transformation? Surely healthy internal competition can drive the bank forward?
Fabrizio: That is true to some extent, not least because it can spur entrepreneurial thinking, which we want to retain. But our transformation will only be successful if we have a collaborative attitude. Sometimes internal competition can tip over into being counterproductive. With limited resources and an ambitious timeframe, we must also be more agile in our approach. This means forming cross-bank teams, delivering the benefits from projects more frequently and always listening to the customers' feedback.
Every company is assessing what the future of work looks like for them and Deutsche Bank is no different. What progress have you made in setting that vision?
Fabrizio: While the pandemic presented huge challenges, it did enable us to complete the most comprehensive future of work survey ever undertaken at the bank. Over 50% took part and we gathered precise data on topics such as flexibility, technology and wellbeing. Around 80% of our population would like to work from home once or twice a week, which tells us we can be more flexible with our office space.
We have insights into which technology tools our people prefer to use, and what they would like introduced. We understand their concerns in more depth and see how open they are to adapt if they know what is expected of them.
Our future of work journey is not something we will work on for a year and come back with a proposal. We want to make continuous improvements to the work environment for our people and make decisions quickly. An example is our collaboration tools, where we have moved quickly to enhance what we offer our staff, in line with compliance requirements. Another example is making quick decisions on what real estate is necessary in future and exiting or sub-letting space where we see opportunities.
It is also true that the future of Deutsche Bank includes reduced headcount. How do you motivate and renew your talent under such restrictions?
Michael: First of all, Deutsche Bank will always be a home for outstanding people and leaders, and we put a great deal of effort into development, retention and selective hiring. We continue to insource talent and provide interesting roles. For example, our partnership with Google Cloud offers technology talent a unique opportunity that is rare in the market.
It comes down to assessing our talent fairly, ensuring they have access to the same opportunities and showing them that behavior matters. We cannot reward a good financial outcome if it was achieved in a way that does not fit our values. Where we decide to exit a business or market, it is about being transparent and undergoing the restructuring responsibly. At the same time, we must be open for business as a hirer and signal to top external talent that they are welcome here, especially as we are not immune to natural attrition.
The workers representatives are playing an important and constructive role in helping us to plan for the future and carefully consider and balance the interests of our people and all of our stakeholders.
The diversity of talent, especially at senior levels, is still an issue for the financial services industry. What is Deutsche Bank doing to correct this imbalance?
Michael: As a bank, we can be proud of the bold, public stance we have taken to progress diversity and inclusion in society. The fact remains that we have much to do to rebalance our workforce – and this will take time.
For example, if we improve the proportion of our graduates who are women or put in place development plans for emerging diverse talent, this will only impact our senior levels in years to come. But we must of course ensure that when a senior role becomes available we have a diverse candidate set to choose from, and a diverse interview panel.
2020 also provided us with a mirror to truly reflect on how representative we are – especially in terms of ethnicity and race, where we have admitted we need to do much more. We choose to be more inclusive, and drive a strong speak up culture, and I am confident the progress and effort we have highlighted in our diversity chapter of this report will pay off. In this respect, our Employee Resource Groups are absolutely essential in raising awareness, offering support and providing ideas for creating sustainable change.
A final question to both of you - why do you think Deutsche Bank is a great place to work?
Fabrizio: To Michael's last point, we are a diverse organization and we will become even more diverse. I also think we are getting better at enabling good ideas to flourish by empowering our people – and the technology we are introducing will enable applications such as advanced data analytics and AI to support our talent further. I also think if you are proactive, look to learn and do the right thing, opportunities will open up for you.
Michael: For me, the selling point has been the people. During such a challenging year you saw the best of the culture come through, with amazing stories of care and concern. I also see how our learning platforms are developing, our leadership skills are being strengthened and how we more accurately recognize and reward our talent.
Thank you Michael and Fabrizio.