Reimagining the Future of Work
Get insights into the Future of Work at Deutsche Bank.
The COVID-19 pandemic has been a catalyst for rethinking the workplace. Across industries, companies used the experience to adapt and implement new ways of working. At Deutsche Bank, we not only established a Future of Work (FoW) strategy that was driven by employee feedback and preferences, we also began implementing it.
The bank's FoW strategy is built on four pillars you can explore in more detail: Implementing a hybrid working model, transforming our real estate, embracing new end user technology and evolving our culture.
Our hybrid working model provides eligible employees the option to work remotely for a portion of their working time. Employees in scope can decide on a voluntary basis to work remotely up to 40-60% of their time based on their role, activity and country. To ensure effective planning and reporting, all remote working arrangements are agreed with managers and formally recorded and tracked in the bank's HR system.
The transformation of real estate will reduce the bank's real estate footprint, redesign office spaces to increase collaboration and put in place tools to efficiently manage capacity.
Our technology strategy includes modern, cloud-based collaboration tools and upgrades to end user devices to support mobility both between the home and the office and within the office.
The long-term success of our FoW model will require an evolution of our culture. While the office remains the core place to work, we recognize and value the benefits of remote working. Therefore, office and remote working environments are equally valued, and we promote a culture of trust and output-based performance measures. We have also established a robust supervisory and control framework to ensure continued compliance with regulatory requirements.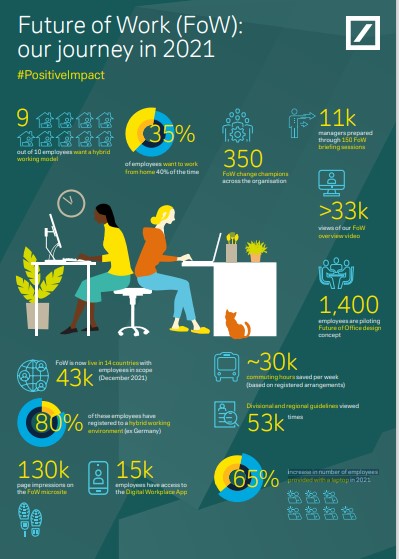 The program is now in its implementation phase. During the last year, new hybrid working arrangements have been launched in 14 countries with 43,000 employees in scope (COVID-19 permitting).
Two out of three eligible employees had submitted their remote working arrangements by the end of 2021. Based on registered arrangements, employees most favor working from home 40% of their working time.
If implemented with discipline and conviction, our FoW strategy will deliver significant benefits for the organization. It will create a more engaged and empowered workforce, reduce the costs of our real estate, enhance our ability to attract and retain talent, create a more diverse workforce and reduce our carbon footprint.