Transforming our real estate
Transforming our real estate
Delivering real estate transformation and reconfiguring our offices form an integral part of the Future of Work strategy. Hybrid working has required us to re-think the purpose of the office and redesign it to reflect this new purpose: increases the space available for in office collaboration. Our following concepts come into effect depending on the specific functions and locations: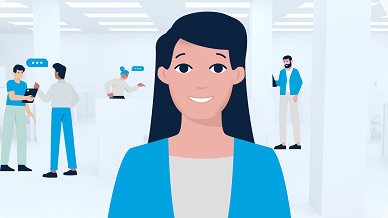 The Digital Office concept reflects the layout of modern Deutsche Bank offices (e.g. our Canary Wharf Infrastructure Hub). It is configured to deliver 70% desks and 30% collaboration spaces and reduced private offices. Teams are assigned to fixed neighbourhoods with flexible seating within that area to support individual work and collaboration.
The Future of Office concept converts the office into an agile workplace. Within the Future of Office concept, teams work from anywhere in a particular building with the ability to define small home bases for groups or project teams. It is configured to deliver 30% desks and 70% collaboration spaces with private offices mostly bookable. Several pilots (e.g. Amsterdam, Frankfurt) have already been successfully launched.
To support the implementation of new office concepts, several booking tools for desks and rooms are made available within the organization. These allow employees to see the availability of desks and work areas and book them on demand.
The evolving role of the office will require a mindset change on how we use our real estate, but if implemented with discipline and conviction will deliver significant benefits such as reduced real estate costs, increased collaboration and flexibility.