What prompted us to review our future way of working
Future of work: COVID-19 a catalyst for transforming the way we work
Almost 80 percent of respondents to the Working from Home survey in April 2020 stated that they would like some degree of remote working in the future. This is precisely what the Bank would like to focus on in the long term and is supported by studies showing that giving people greater autonomy can be a key motivator for employees.
In response to the COVID-19 crisis, the Future of Work program was set up in June 2020 to focus on how the Bank could transform the way we work.
Reimagining the Future of Work
#PositiveImpact
The global program, led by Chief Transformation Officer Fabrizio Campelli and Global Head of HR Michael Ilgner, will change the way we work and how we use office space. Based on global design principles, each region is developing detailed plans that will enable the majority of employees to have some kind of long term remote working arrangement. It has demonstrated that there are alternatives to the tried-and-tested office based arrangement, showing it is possible to work successfully and lead teams in other ways, when working remotely.

We have learnt a lot from the experience of working remotely during the pandemic, with many feeling that the main purpose of the office in the future would be for collaboration and brainstorming. We want to create a strategic ambition for the long term "future of work".
- Michael Ilgner, Global Head of HR
Future of Work Strategic Objectives
The Future of Work program has already laid the foundations for a model of work which could prove transformative for Deutsche Bank. The landscape will continue to evolve, but Deutsche Bank is committed to using the lessons learned over the last 12 months as a foundation for transforming the way in which we work in the future.
Deutsche Bank is seizing this opportunity to re-design the future of work to enhance collaboration, improve the employee experience and change the balance between working in the office and from home. At the heart of the Future of Work program is the employee experience: Transforming the way we work in order to unleash the full potential of our people and our organization. This will be achieved through implementing four pillars:
Embedding flexible working: Creating a new flexible hybrid operating model that provides employees with the opportunity to spend some of their time working remotely based on the role they do within the Bank. Based on analysis of the roles within the Bank and staff surveys we believe that approx. 70% of staff could work effectively spending 40% of their time working remotely.
Reconfiguring and resizing our real estate: To support the hybrid model through our office design we will look to reconfigure our offices to create more space to for collaboration activities and agile ways of working. At the same time this will enable us to reduce our real estate footprint to create a more efficient operating platform for the Bank.
Embracing new technologies: As more people work remotely we will provide the technology to support them to work productively through the roll out of collaboration tools that enable people to interact effectively in a remote environment, adopting mobile and flexible end user hardware options and shifting to a more cloud based and digital environment.
Changing our culture: We will drive this change in the way we work by shifting our culture to focus on trust and autonomy in order to drive increased engagement, productivity and commitment from our people. This will also act as a catalyst for moving the Bank more towards an outcomes based performance culture. Cultural change will be supported by equipping our managers to effectively lead remote teams.
The transformative impact of the Future of Work goes beyond just increasing flexible working. It is also about enhancing our performance culture, accessing more diverse talent, improving our reputation as an employer of choice and reducing our carbon footprint.
Our focus is on developing our leaders and employees to help them be effective and productive in a changed environment and give the right support for physical and mental wellbeing, as well as ensuring appropriate levels of supervision and control, in addition to any regional specific requirements.
Future of Work employee led design thinking
Both the origins of the Future of Work program and the key elements of the operating model, in particular the hybrid operating model, have been driven by the feedback from our people.
In April 2020 we conducted our first Future of Work survey. In that survey, we were encouraged to see that despite the transition to work from home for the majority of staff, 98% understood what was expected of them and 93% have been able to achieve what is expected of their role. The results showed that 80% of staff expressed a preference for some form of remote working in the longer term. At the same time staff also made it clear that they valued the opportunity to spend time in the office for purposes of collaboration, innovation, mentoring and culture building. Over 80,000 comments provided rich qualitative data, highlighting improved digital communication tools and IT support, as well as increased flexibility and trust from management.
The desire to combine benefits of remote working and being in the office, both for our people and our Bank, is at the heart of the proposed hybrid operating model.
Throughout the pandemic, employee opinion on the ''Future of Work'' topic has evolved, helping to shape our approach further. Employee openness to remote working has continued to grow, with an increasing preference for working remotely for some of the working week. Employees have been able to work in a largely positive environment conducive to feeling well and being resilient. They have felt well set up to do their jobs effectively at home, a key factor in perceived productivity, wellbeing and wish to work from home.
Future of Work Survey Results (April 2020)
98% understand what is expected of them when working from home
93% have been able to achieve what is expected of their role while working remotely during COVID-19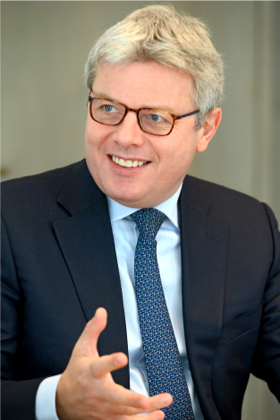 We want to combine the best of both the office and remote working to enhance the employee experience, helping teams work in a more collaborative way and giving our staff the flexibility they need to be as productive as they can be.
- Fabrizio Campelli, Chief Transformation Officer and Member of the Management Board
A second Future of Work survey was conducted in January 2021 to understand and confirm employee opinion on the themes outlined above and to help shape this approach further.
Future of Work program set-up and implementation
The Future of Work program was set up to design and implement an operating model that will enable Deutsche Bank to realize the benefits of transforming the way that we work. As a Management Board (MB) sponsored Key Deliverable (KD) it has been identified as one of the Bank's more important change programs.
As at the end of 2020 the program had agreed the Future of Work operating model with the Management Board, secured the investment to realize the real estate changes and put in place a program structure to deliver the transformation; combining central design principles and enablement capabilities with country based implementation teams.
In 2021 the program will move from the high level design and planning phases, into detailed design and execution. Depending on the easing of COVID-19 working restrictions, the expectation is that by the end of 2021 most countries will have rolled out the Future of Work hybrid operating model supported by enhanced training for managers and a review of the supervisory and control environment.
In certain countries, 2021 will also see the implementation of a series of real estate pilot projects to test new office design concepts in conjunction with the new hybrid operating model. The majority of the other real estate changes and the accompanying technology investments in collaboration tools and end user hardware will follow in 2022 and beyond.