Deutsche Bank signs UK Treasury's Women in Finance Charter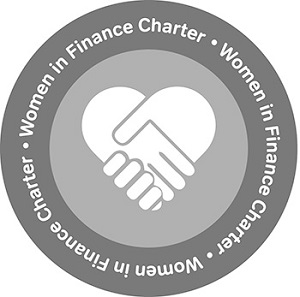 Deutsche Bank was one of the founder signatories of the UK Treasury's Women in Finance Charter in July 2016, along with other leading financial service firms. The Charter is designed to promote a more gender-balanced financial services industry in the UK.
The Treasury Charter launched in February 2016, following a consultation and review of women in finance entitled 'Empowering Productivity: harnessing the talents of women in financial services'.
Deutsche Bank was able to demonstrate it meets all the requirements of the Charter. The Bank has a number of global gender diversity commitments and programmes in place to develop a pipeline of women who can progress into senior roles, and publicly reports on progress in its annual Human Resources Report.
We strongly support the case for gender diversity. Our leaders at all levels are expected to foster an inclusive and respectful environment, where all employees can be themselves and succeed based on merit.
The implementation of new gender quota legislation in Germany in 2015 meets a key component of the Charter requirements.
Deutsche Bank will continue its efforts to advance women in the workplace under new gender quota legislation introduced in Germany in 2015.
The percentage of women on Deutsche Bank's Supervisory Board stood at 35% at the end of 2015, above the new statutory requirement of 30% for listed and co-determined German companies.

The Supervisory Board set a target of at least one female member of the Management Board by June 30, 2017. The target was met with the appointment of Sylvie Matherat, Chief Regulatory Officer, to the Management Board on November 1, 2015. It is planned that another female executive, Chief Operating Officer Kim Hammonds, will join the Management Board in the course of 2016.
In excess of the law
For the management boards or management committees of the other Group companies in the scope of the gender quota law, the Bank has set the same target of at least one female member to the extent legally permissible in the respective jurisdiction.
Implementing German gender quota legislation at Deutsche Bank AG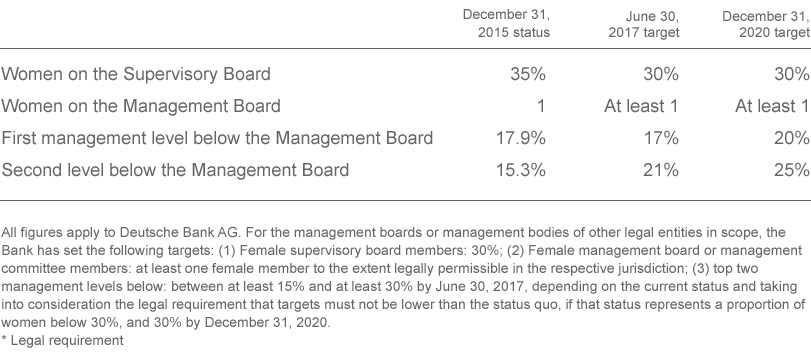 As of year-end 2015, 17.9% of positions at the first management level below the Management Board of Deutsche Bank were held by female executives. At the second level below the Management Board, this percentage stood at 15.3%. The Bank has set itself targets for these levels for 2017 and 2020 in accordance with legal requirements in Germany, and its implementation approach has been widely recognized by external stakeholders.
In May 2016, Deutsche Bank was recognised in the inaugural global Bloomberg Financial Services Gender-Equality Index, which includes companies that have made strong commitments to gender equality and provides investors with data on company gender statistics and employee policies.
More information on Deutsche Bank's global diversity and gender equality agenda, including its gender diversity targets and statistics, is available in the Bank's online Human Resources Report.
Further links on the topic