"Lange Nacht der Startups" at Deutsche Bank Atrium on September 3, 2016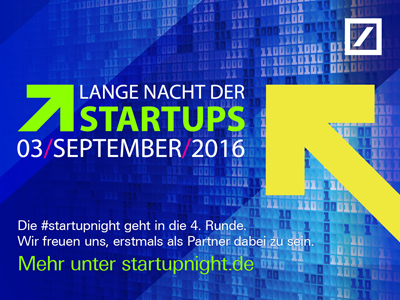 The expected crowd includes investors, entrepreneurs, users and potential clients. Participating startups cover a wide range of topics including FinTech, mobility, energy, communications, retail and hardware. Activities in the atrium of Deutsche Bank's Unter den Linden location will focus on bank-related services. Partners such as figo, DSwiss and jovoto will present their business ideas.
In the words of Markus Pertlwieser, Chief Digital Officer: "Lange Nacht der Startups is a good opportunity for Deutsche Bank to show the general public that Deutsche Bank is a leader of digital innovation. Startups can now see how we work and which ideas could be mutually put into practice." At 8pm Mr. Pertlwieser will discuss this topic together with Christian von Reventlow, CPIO of Telekom as well as Daniel Haver, CEO of Native Instruments.
In line with the overarching theme, Deutsche Bank will inform visitors about the diversity within banking. Be it acquisition of new clients, technological advancement of business models or social startups as supported by the programme Made for Good – the bank is truly a hub.
Further links on the topic