"Denk ich an Deutschland"
Conference hosted by the Alfred Herrhausen Gesellschaft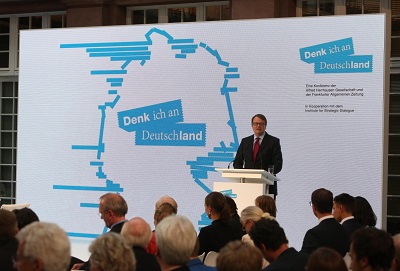 In August 2015, Angela Merkel said: "We can manage it!" How will we assess this sentence in 2025? How much will we have managed? And what exactly must we actually manage?
With this year's "Denk ich an Deutschland" Conference, the Alfred Herrhausen Gesellschaft and Frankfurter Allgemeine Zeitung venture a look into the future. Or rather: into possible futures, since the conference is arranged on methodically based scenarios which depict conceivable developments.
Together with experts from politics, economy and society, Alfred Herrhausen Gesellschaft has elaborated scenarios on the topic of migration and integration in Germany for the year 2025. The entire process up to the creation of the scenarios has been methodically supervised by Z_punkt. The Foresight Company. These scenarios form the starting point for the conference programme on 23 September 2016.
Social Media
Before, during and after the conference – discuss with us on the Twitter and Facebook channels of the Alfred Herrhausen Gesellschaft. The conference-hashtag is #diad16.
Further links on the topic