Earth Week 2018
Spotlight on environmental protection and sustainability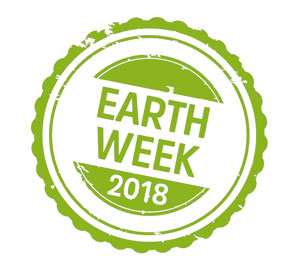 What exactly is the financial industry doing to protect the climate, both on a large scale and through smaller gestures? Deutsche Bank has already published answers to this question in its recent Non-Financial Report.
Reading about it is one thing, but also being able to make your own contribution is something else.
And that's exactly what Deutsche Bank is planning for its staff in the coming week during Earth Week: with numerous initiatives, events and stories the bank will be highlighting its commitment to climate protection in particular and environmental, social and governance (ESG) issues in general.
But that's not all.
We are calling on our employees to do their bit to protect the environment every day. For example:
Monday: Don't use any bags or packaging made of plastic or other materials.
Tuesday: Leave your car at home and travel to work using public transport, ridesharing or by bike
Wednesday: Don't use disposable cups or cutlery
Thursday: Don't throw away any food
Friday: Don't do any printing or photocopying
Our staff can also:
Hand in small electrical appliances, especially mobile phones, for expert disposal at several of our hubs and
In our staff restaurants, choose a dish with an especially low environmental impact, made using only regional ingredients, for example, or a dish whose preparation consumes a very low amount of energy.
In addition, Deutsche Bank is hosting debates to which guests and staff are invited. "How is the financial industry helping climate protection targets to be met?" is the title of a panel discussion being held on April 17, 2018 at 17:00 in the QuartierZukunft in Berlin (Friedrichstraße 181).
The panel members will be Nicole Röttmer (Board Member of 2º Investing Initiative Deutschland and the founder & CEO of The CO-Firm), Karsten Neuhoff (Head of the Climate Policy Department, Deutsches Institut für Wirtschaftsforschung) and Markus Müller, from the team responsible for investment strategy in the Wealth Management business of Deutsche Bank.
Müller and his colleagues have recently published an ESG report in which they analyse various studies that investigate whether ESG criteria reduce or – on the contrary – actually boost returns on investment.