A generation at risk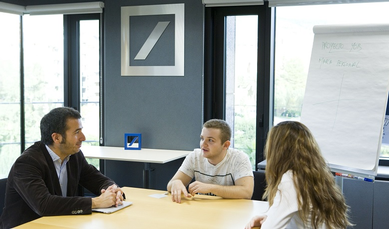 Following the financial crisis many countries have seen unemployment increase, but the impact on Spain has been especially severe. The unemployment rate for the European Union stands at around 6%; in Spain, it is close to 14%.
Another alarming characteristic of the Spanish labour market is the level of youth unemployment. Today, more than 33% of young people aged under 25 are without a job. If this trend is not addressed, there is a very real risk that an entire generation will be lost to long-term unemployment.
Within this group, more women are out of work than men, which suggests that they face further barriers to obtaining work. The sectors of the economy with the highest rates of unemployment are agriculture, architecture, construction and journalism.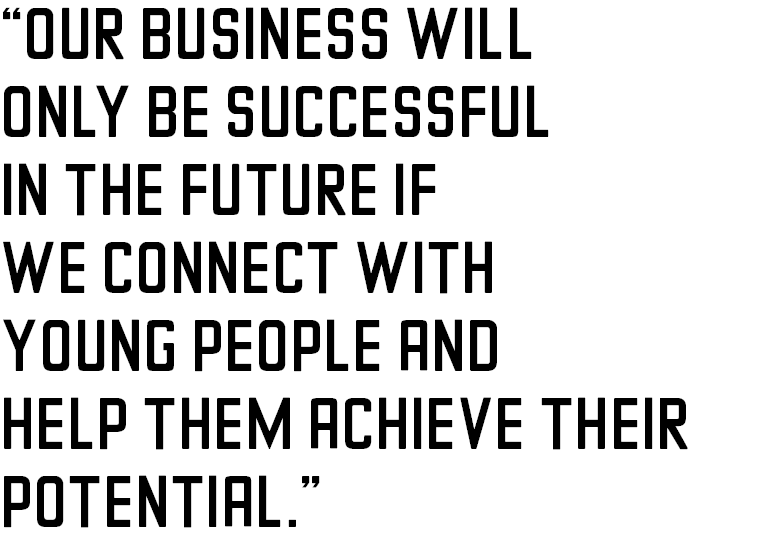 Gloria Fernández, Deutsche Bank Volunteer
Increasing the chances of success
Having the relevant qualifications and skills can increase the chances of finding a job. A strong personal brand that communicates an individual's unique talents helps too. Accordingly, the non profit organisation Fundación Exit has joined in partnership with Deutsche Bank to launch Project Yob to provide young people with practical support on how to succeed in the job market.
Deutsche Bank employees support the project. By assisting with training and sharing insights on what employers look for, they help to develop the skills and build the confidence of young people accustomed to regular setbacks in their search for work.
Project Yob has four stages. In initial speed interviews, each young person has three minutes to present their professional profile to Deutsche volunteers, who provide general feedback. Skills training follows, where participants receive one-to-one direction on how to increase their employability.
The third stage is about the importance of building a personal brand. At the end of the training, participants are interviewed by potential employers, which can lead to the offer of a job.
Interview with Mario, Project Yob participant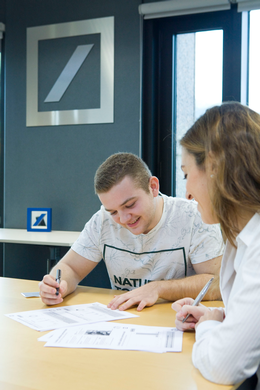 Mario, 20, is from Barcelona. He was unemployed when his mother suggested Project Yob. The experience has given Mario a new belief in his employability. He's a more confident job hunter who is using his personal brand to get noticed.
How would you sum up your experience of Project Yob?
It has been a really positive experience. I've learnt a lot about myself, gained new skills and I feel better equipped to find a job.
What skills does the training develop?
I used to put my CV on job websites and hope an employer would contact me. Project Yob showed me how to search in a more active way by studying companies and adapting my CV to their requirements.
I learned that you have to look where you are most likely to find success: for me that's in retail, as I have relevant experience. The interview training helped me a lot. I had no idea how to prepare for job interviews. Now I know when to speak and what to say.
What was the most important lesson you learned from the project?
Sometimes you have personal qualities you just don't see. The project helped me understand what I have to offer to an employer and showed me how to create a personal brand to stand out from other candidates. My brand is that I'm good at adapting to new environments and circumstances, I'm a fast learner and a team player.
What was your perception of the job market before the project and after?
I was very pessimistic before. When I watched the news on TV and read the newspapers, I only saw the negative side. I believed there were no opportunities for young people. After this training, I still think it's going to be difficult to find a job but I have a more positive attitude. I believe that if you have the motivation and the right tools, you can succeed.
What barriers do young people face when they look for work?
I think the main problem is lack of experience. If a job requires experience and you have never worked before, it's a vicious circle. You can have good qualifications and a positive attitude but if nobody gives you that first opportunity, you can't move forward.
Do you have a greater appreciation of the value of education after this project?
Yes, I do. I realise that the more education you have, the more possibilities there are for you in life. I'm going to focus on finding a job for now, but I'd like to get more qualifications in the future. If I complete high school, I can go on to higher education: I'm interested in studying psychology.
Would you recommend this project to friends?
Definitely. Everyone who participated in the training gained something positive from it. I'd like to say thank you to Fundación Exit. They do an awesome job.

Status quo
After participating in the Proyecto Yob, and especially in the Mentoría program, Mario decided his professional goal was to work in something related to helping socially vulnerable and excluded people. To achieve this, he started Higher Technical Certificate Studies in Social Integration. He is currently studying in his last year and his desire is to undertake an internship at Fundación Exit.
Mario sporadically works for a caterer. Recently, he has found a new hobby, Kung fu. According to him, this helps him keep focused on his objective.
Proyecto Yob
More than 1,500 unemployed young people in Spain have benefited from Proyecto Yob:
35% have signed indefinite contracts
93% have had at least one job experience
95% say they have acquired skills
100% think they are now better prepared than they were before entering the project
Project Partner
Fundación Exit supports the job-placement of students with academic failure and risk of social exclusion through innovative training projects.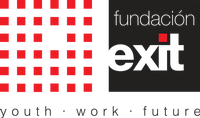 46%
Almost half of 16-19 year olds in Spain are unemployed (INE, 2019)
You may also be interested in
Enterprise
We want to empower startups, non-profits and commercial businesses that create wider social good. Our Made for Good programme provides access to advice, support and networks to help them scale up.
Community
Wherever we do business we work to build stronger and more inclusive communities. We focus our efforts on the most disadvantaged through projects that deliver basic welfare, improve essential infrastructure and provide relief in emergencies.