Deutsche Bank signs up to UN Standards of Conduct for Business to tackle discrimination against LGBTI people
Deutsche Bank has become one of the first companies to adopt the United Nations Standards of Conduct for Business to tackle discrimination against lesbian, gay, bi, trans and intersex (LGBTI) people. The United Nations High Commissioner for Human Rights, Zeid Ra'ad Al Hussein, launched the Standards on Tuesday, September 26. Other early adopters include Microsoft, Accenture, Coca-Cola, EDF, IKEA and SAP.
Addressing business leaders, activists and journalists at Microsoft's New York City headquarters, Mr. Hussein called on the private sector to play its part in promoting LGBTI inclusion in the workplace and beyond: "The decisions that companies take – in respect of human resources, investment, supply chains, even marketing – can have a real and profound impact on human rights." He thanked Deutsche Bank and other companies for their thought leadership in LGBTI inclusion.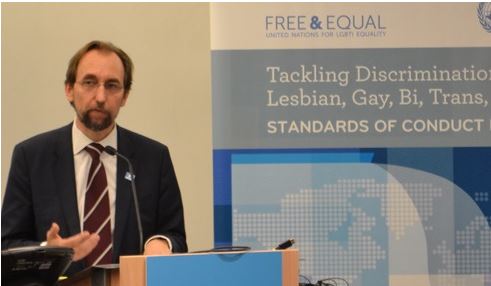 Five Standards of Conduct for Business
The UN has set out five Standards of Conduct for Business. These aim to tackle discriminatory practices in the workplace, in the marketplace and in the community.
By adopting these Standards, we pledge to:
Respect the human rights of LGBTI people in our operations and our business relationships;
Eliminate discrimination against LGBTI employees in the workplace;
Provide support for our LGBTI employees by providing a positive, affirmative environment within our organisation;
Prevent other human rights violations arising from discrimination against LGBTI suppliers, distributors, customers or other business partners;
Act in the public sphere. This can include public advocacy, collective action, social dialogue, or financial and in-kind support for organisations advancing LGBTI rights.
Stuart Lewis, Chief Risk Officer and dbPride Executive Sponsor, said: "We are proud to be an early supporter of the important work of the UN. Our support is a clear statement of what we stand for at Deutsche Bank. We strive to create an environment of diversity, inclusion and mutual respect – an environment in which everyone at Deutsche Bank can bring their whole self to work every day. These principles also guide us in the way we conduct business and how we operate in the communities we serve."
Deutsche Bank's support for the UN's work on LGBTI inclusion
Deutsche Bank participated in the initial drafting session for the standards in June 2016 and sponsored the first LGBTI gala, A Celebration of Courage, at the United Nations Headquarters in May 2016. In citing examples of good practice from around the world, the new standards reference Deutsche Bank's actions in response to North Carolina's House Bill 2 and the significant impact of the subsequent hiring freeze in the US state. As a long-time thought leader in LGBTI inclusion, Deutsche Bank has provided support in many ways, including global awareness campaigns such as the International Day Against Homophobia and Transphobia (IDAHOT).
Further links on the topic