Can you have a positive impact on financial performance and on society?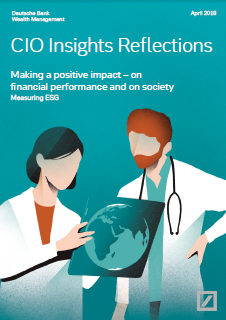 Decades of studies on investment strategies show that far from being a burden on performance, an Environmental, Social and Governance (ESG) approach can help enhance portfolio returns while at the same time achieving a positive societal, environmental or governance impact.
Following a Deutsche Bank Wealth Management Chief Investment Office (CIO) special on ESG investments last year, the team analysed decades of studies to prove whether financial performance and positive societal impact can go hand in hand and which ESG strategies have proven to produce the best results for investors.
More often than not, socially responsible investors do not sacrifice financial performance by reaching their non-financial goals. In several cases, ESG strategies outperform similar non-ESG portfolios, often for reasons to do with risk avoidance and security selection.
Even though the realm of ESG investment is highly diversified, empirical evidence shows how non-financial considerations can help companies improve their profitability and hence enhance investment returns for investors.
Various fixed income managers have found that running companies through an ESG screening before buying their debt helps them avoid one default per year on average. This is a remarkable example of how non-financial considerations have a direct financial impact.
It has long been argued that integrating considerations about environmental, social and governance aspects into investment portfolios reduces the investable universe and thereby inevitably detracts from financial performance.
In this publication, the WM CIO shows why this is not the case and in which instances ESG aspects, far from representing a cost, can have a positive effect on both investment returns and risk considerations.
Click on the CIO Insights Reflections report link for details.
Further links on the topic