Coronavirus pandemic: how Deutsche Bank is able to be part of the solution in India
As the world grapples with the effects of coronavirus, India's own battle against COVID-19 brings challenges on multiple fronts. Announced as a preventive measure, the nationwide lockdown, which began on March 25 has impacted the livelihoods of thousands of people across the country.
Additionally, as testing for the virus increases, the number of confirmed cases could go up further and the existing hospital infrastructure may not be adequate to isolate patients and provide them with the necessary care. To support the government's efforts, Deutsche Bank, through its CSR In the Community programme, is providing much-needed support to over 50,000 people across the country, through three individual initiatives that focus on providing food, isolation shelter and basic supplies.
1 million meals for the needy
Daily wage earners and labourers who have become unemployed due to the lockdown are finding it difficult to feed themselves and their families. In partnership with The Akshaya Patra Foundation, Deutsche Bank will provide 1 million free meals to the homeless and daily wage labourers in the cities of Jaipur, Delhi, Ahmedabad and Surat throughout the month of April 2020. The district administrations in each city will distribute these nutritious meals, prepared in the Akshaya Patra kitchens, to 35,000 individuals.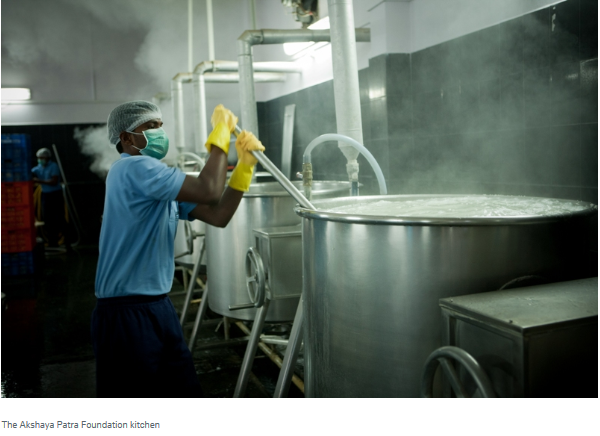 450 isolation rooms
Many of those who become infected do not need specialised hospital equipment, but only basic medicines and somewhere to keep them isolated until they recover. Through a unique and scalable model, Deutsche Bank will help set up 450 isolation rooms in Mumbai, Bangalore and Delhi. The Apollo Foundation, which is providing pro-bono medical staff and expertise, is leading this social welfare consortium.
Hospitality organisations such as Oyo Hotels and Rooms, Ginger Hotels and Lemon Tree Hotels are providing rooms, and food delivery start-up, Zomato, is on board to deliver food to people staying in these isolation facilities. Along with Deutsche Bank, State Bank of India and Hindustan Unilever will provide monetary support to the project which will be utilised to cover the cost of rooms and food for those in need. As part of this overall project, a total of 5,000 isolation rooms will be set up in various cities across India.
Kits with essentials for 16,500 people
Many daily wage earners who have migrated to their villages from cities due to the lockdown now face the challenge of survival. In partnership with Goonj, Deutsche Bank is providing 3,300 family kits of essentials in remote villages of Maharashtra, Karnataka and Rajasthan. These kits will include dry food, basic toiletries and cleaning agents among other essential items for a family of five members.
Deutsche Bank's Chief Country Officer for India Kaushik Shaparia says: "These unusual circumstances require a renewed and urgent effort in terms of corporate social responsibility. Through our partnership with these NGOs we are scaling up the efforts made by central and state governments to not only curtail the spread of the virus but also alleviate the burden on the economically disadvantaged sections of our society."