Deutsche Bank and Bayan-Anihan assist farmers with sustainable farming
Launches seed funding programme called Growing Goodness, Together
Deutsche Bank (XETRA: DBKGn.DB / NYSE: DB) and the Bayan-Anihan project of NGO Gawad Kalinga have launched a new programme in the Philippines to help farming families create a sustainable farming income in the midst of the devastating effects of the pandemic on the agricultural sector.
Called Growing Goodness, Together, the programme will initially provide help to 50 farming families across four villages and farming communities supported by Gawad Kalinga, to enable farmers to invest in more efficient farming equipment, tools, seeds, and fertilizer.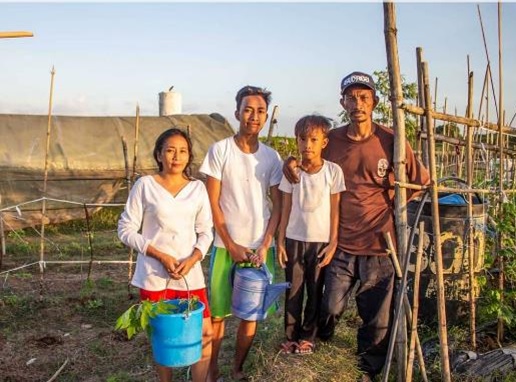 Gawad Kalinga Chairman Jose Luis Oquinena said, "Each family in the partner communities with enough space for individual family garden plots will be provided with tools and know-how to grow their own vegetables to sell at market."
Once farmers have created enough revenue for the next harvest, they return the initial 'seed' funding to the programme so it can be re-cycled and re-directed to other farmer families so they can similarly benefit.
Deutsche Bank Philippines Chief Country Officer Michael Chua said, "Growing Goodness, Together is an important support programme to enable farmers to create a sustainable income. Conceptualised by our Corporate Social Responsibility (CSR) Council, this partnership is the latest drive by our employees to support their community during the Covid-19 pandemic."
The partnership programme will also help farmers learn more about quality control principles to improve their crops as well as create links to potential markets.
Bayan-Anihan, or community harvest, is a non-profit arm of Gawad Kalinga that empowers farmers to create a sustainable income by connecting them with the private and government sectors. Bayan-Anihan acts as a marketing arm by organizing farmers to pool their harvest, connect to market and offer business management and marketing support to assist farmers selling their produce at market.
Deutsche Bank's local and global employees will also contribute their skills through various volunteering projects, as part of the bank's 'Made for Good' CSR initiative.
Deutsche Bank AG Media Relations:
Sarah Stabler
Email: Sarah.stabler@db.com
Phone: +65 9116 9970
About Deutsche Bank
Deutsche Bank provides retail and private banking, corporate and transaction banking, lending, asset and wealth management products and services as well as focused investment banking to private individuals, small and medium-sized companies, corporations, governments and institutional investors. Deutsche Bank is the leading bank in Germany with strong European roots and a global network.
About Gawad Kalinga
Gawad Kalinga's mission is to end poverty for 5 million families by 2024. Its vision is to build a nation empowered by people with faith and patriotism; a nation made up of caring and sharing
communities, dedicated to eradicate poverty and restore human dignity.
About Bayan-Anihan
Bayan-Anihan, or community harvest, is a sustainable profit for non-profit arm of Gawad Kalinga that aims to help farmers have higher and sustained income by connecting partners from the
private and government sectors.
Disclaimer:
This release contains forward-looking statements. Forward-looking statements are statements that are not historical facts; they include statements about our beliefs and expectations and the assumptions underlying them.
These statements are based on plans, estimates and projections as they are currently available to the management of Deutsche Bank. Forward-looking statements therefore speak only as of the date they are made, and we undertake no obligation to update publicly any of them in light of new information or future events.
By their very nature, forward-looking statements involve risks and uncertainties. A number of important factors could therefore cause actual results to differ materially from those contained in any forward-looking statement.
Such factors include the conditions in the financial markets in Germany, in Europe, in the United States and elsewhere from which we derive a substantial portion of our revenues and in which we hold a substantial portion of our assets, the development of asset prices and market volatility, potential defaults of borrowers or trading counterparties, the implementation of our strategic initiatives, the reliability of our risk management policies, procedures and methods, and other risks referenced in our filings with the U.S. Securities and Exchange Commission.
Such factors are described in detail in our SEC Form 20-F of 20 March 2020 under the heading "Risk Factors". Copies of this document are readily available upon request
Further links on the topic