Next-generation financial services powered by cloud

#PositiveImpact





In partnership with
Google Cloud
Deutsche Bank and Google Cloud have finalised a strategic, multi-year partnership to accelerate the bank's transition to the cloud and co-innovate new products and services. It is the first partnership of this kind for the financial services industry.
For Deutsche Bank's clients, the agreement will reshape how products and services are designed and delivered. With faster application development and the use of advanced artificial intelligence and data analytics tools, the bank will be able to respond more flexibly and accurately to the most pressing challenges, trends and client needs.
Benefits of cloud
Moving to the public cloud has a number of benefits, including:
Scalability: Capability to scale elastically, delivering the right amount of IT resources when it is needed, at the right geographic location.
Reduced maintenance effort: Cloud providers manage all administrative tasks (e.g. patching of servers) and deliver an up-to-date, fully compliant environment including back-ups, replication, and disaster recovery.
Cost effectiveness: Flexible price structures – you pay for what you use.
Developer productivity: Public cloud provides pre-engineered, standardised services ready for consumption e.g. for compute, database and application hosting. Automation and self-service are built in by default.
Security: Cloud providers invest heavily in cyber security capabilities.
Data privacy and security
Deutsche Bank has an uncompromising focus on data privacy and security to safeguard customer data and Deutsche Bank's information assets. The bank will conform to privacy and data protection regulations in its use of public cloud services, including Data Jurisdiction, Data Processing and Data Access.
We continuously evaluate both the security capability of our vendors and our internal cloud security policies to ensure we operate in the safest possible environment.
Deutsche Bank can choose in which data centre region in scope applications are being deployed to cater for data location preferences or rules. Deutsche Bank applications will encrypt data at rest and in transit. Google Cloud will provide Deutsche Bank with functionality to allow the bank to manage its encryption keys.
Bringing the partnership to life
The transition to the public cloud is an exciting development for Deutsche Bank's businesses and infrastructure areas. Moving in scope applications to the public cloud environment allows Deutsche Bank areas to dynamically scale infrastructure up or down to meet demand, something which is essential in a more digital world.
Eliminating the overhead of managing legacy infrastructure will allow the bank's engineering community to spend more time coding, increasing developer productivity, reducing time to market for new applications and shortening release cycles across our platform. Google's suite of data analytics will enable Deutsche Bank to continue to develop innovative solutions which are driven by the latest advances in artificial intelligence and big data analysis.
A number of potential use cases are already being explored – a selection of which can be found below.
The CEO view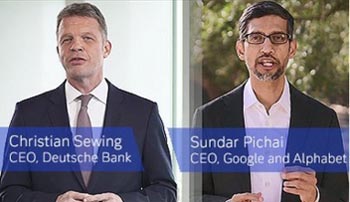 Watch Christian Sewing and Sundar Pichai discuss the benefits of the strategic partnership between Deutsche Bank and Google Cloud.
UnScripted Podcast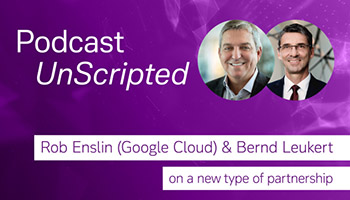 Listen to Rob Enslin (Google) and Bernd Leukert (Deutsche Bank) discuss the strategic partnership between the two companies, and what it means for financial services
Media release
Bernd Leukert message to staff
Contact