Early learning pays off
South Africa has 11 official languages. As the language of education, business, finance, government and even street signs, English is essential.
For young South Africans, being able to speak and read English increases access to learning and employment opportunities. Yet English is the mother tongue of less than 10% of the population. And many children, particularly those in the poorest communities, do not begin learning English during early childhood, when research shows they are at their most receptive.
Teaching the teachers
The root of the problem is a lack of qualified pre-school teachers. Deutsche Bank is addressing this need through its Born to Be youth engagement programme, in partnership with the educational specialist Brainwave Careers. Brainwave trains teachers to teach English in communities where the first language is not the vernacular. The teachers it works with are committed and enthusiastic, but mostly lack professional training.
A foundation course run by Brainwave, called 'Ready, Steady, Learn', instils basic teaching skills for early childhood development programmes and builds confidence in teaching English. It leads to a two-year programme in which participants study for the nationally recognised NQF4 qualification.
The teachers work in poorly-equipped schools, so Brainwave trains them to be creative with whatever resources they have: cardboard boxes, paper plates and string are turned into animals that aid storytelling.
A day in the life of Rebecca, pre-school teacher
7am

"When I arrive at school to prepare my lessons, some of the children have been here since 5.30am as their mothers are at work."

8am

"There are 20 children in my class, aged from one to six years old. The school has an important place in their lives. They feel save here."

12pm

"We work on developing English language skills all the time, in class and during play."

2pm

"The school does not have many resources. Brainwave showed me how to be creative with materials to make toys that stretch the children's imaginations."

5.30pm

"At the end of each day, I am tired but happy. It was my dream to work with children as a teacher. I am pleased I can help give these children a better life by teaching them English."
Changing the future
The informal settlement of Diepsloot, near Johannesburg, is home to over 140,000 people who live in conditions of extreme poverty. Home is often a shack. Unemployment is high among the residents. Those who do work have low-paid jobs.
There are more than 4,000 nursery schools in Diepsloot, but most are unlicensed and focus on caregiving more than teaching. The majority of teachers that work in them are untrained.
Since 2013 Deutsche Bank South Africa Foundation has been supporting a Brainwave project in Diepsloot that is opening up a different future for the children of this community.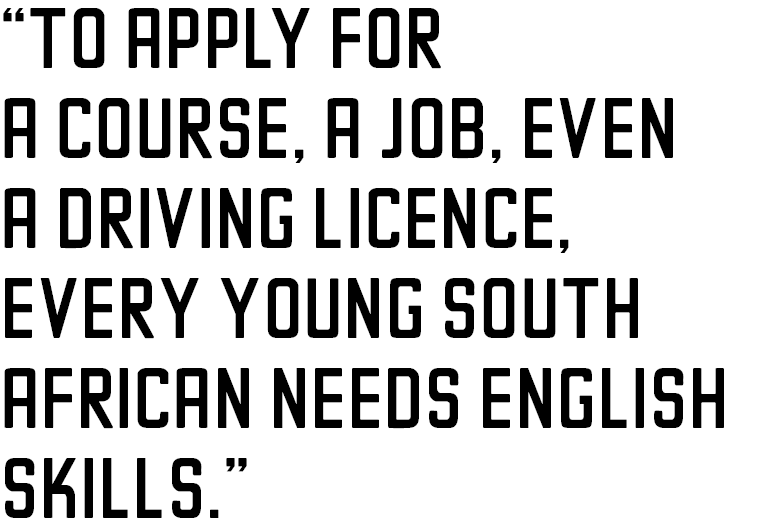 Dr. Lanette Hattingh, Founder, Brainwave Careers
Ready to step up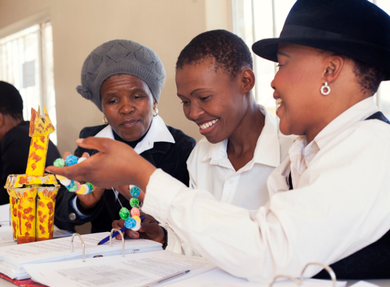 Rebecca Sebopa was a low-paid domestic worker before she decided she wanted to work with children. When she came to the Kopanang Nursery School, it was as a nursery assistant. Through Born to Be, she now has a career that reflects her vocation.
Rebecca was one of the first wave of 40 pre-school teachers in Diepsloot to complete the NQF4 qualification. Training from Brainwave gave Rebecca the technical skills to complement her natural aptitude for teaching.
Education has changed Rebecca's life. Now her classroom is bringing change to Diepsloot. Her example offers encouragement to the children she teaches. And when the time comes for them to leave Kopanang Nursery School to go to school, they will be bilingual. No language barrier will hold them back.
You may also be interested in
Enterprise
We want to empower startups, non-profits and commercial businesses that create wider social good. Our Made for Good programme provides access to advice, support and networks to help them scale up.
Community
Wherever we do business we work to build stronger and more inclusive communities. We focus our efforts on the most disadvantaged through projects that deliver basic welfare, improve essential infrastructure and provide relief in emergencies.