History
50 years of the Historical Institute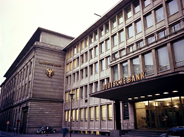 Fifty years ago, on August 29, 1961, the Management Board of Deutsche Bank decided to set up an historical archive at its Frankfurt headquarters, making it the oldest professional company archive in the German financial industry. Today, the archive contains more than 6 kilometers of business and personnel files, documents, photos, films, advertising material and securities of Deutsche Bank and its predecessor institutions.
The founding of the archives was a result of the Cold War. Two weeks after the building of the Berlin Wall in 1961, it was clear Deutsche Bank would not regain access to documents at its former Berlin headquarters in East Berlin. As the Bank's 100th anniversary in 1970 was approaching, it was essential to collect the materials that remained in West Germany. Fritz Seidenzahl, former Editor-in-Chief of financial newspaper Börsen-Zeitung, was given the task of setting up the Historical Archive and documenting the history of Deutsche Bank. His book "100 Years of Deutsche Bank" was published in 1970.
After the fall of the Berlin Wall in 1989, 12,600 files from Deutsche Bank's former headquarters were returned to the company. It was these files that enabled the Bank to implement an idea proposed by Alfred Herrhausen, Spokesman of the Management Board, to commission a group of independent researchers to write a history of Deutsche Bank. The resulting publication, "The Deutsche Bank 1870-1995", received wide recognition, particularly because it gave an account of the history of Deutsche Bank during the National Socialist period. The Bank was the first German financial institution to commission extensive unrestricted research into this era.
The archive today is not only responsible for collecting and preserving material, but also has the important task of communicating the Bank's historical identity. Because of this, the Historical Archive was in 1996 renamed "Historical Institute of Deutsche Bank". The institute recently published the chronicle "Deutsche Bank 1870-2010"