Strategy
Building on our foundation as a leading European Corporate Bank based in Europe's largest economy, we have transformed our business model. We operate where our clients want us to be and where we are competitive. As a result, we aim to become less complex and more profitable, improve shareholder returns and drive sustainable growth.
"Lead of the objectives that we set ourselves. Our new strategy is paying off: client feedback and momentum as well as internal employee feedback demonstrates that we have found our path and execution is well underway. […]. The results in the second quarter and for the first half are ahead of our internal plans."
Christian Sewing, CEO
Latest transformation news
Our Mission
Deutsche Bank is …
… a leading European Corporate Bank based in Europe's largest economy
… with strong investment banking, private banking, wealth and asset management capabilities
… aligned with the strengths of the German economy around trade and investment
… at the centre of our corporate, institutional and private clients' needs
… the risk manager and trusted advisor to our clients
We have taken five decisive actions …

... and have a clear plan for each of our divisions.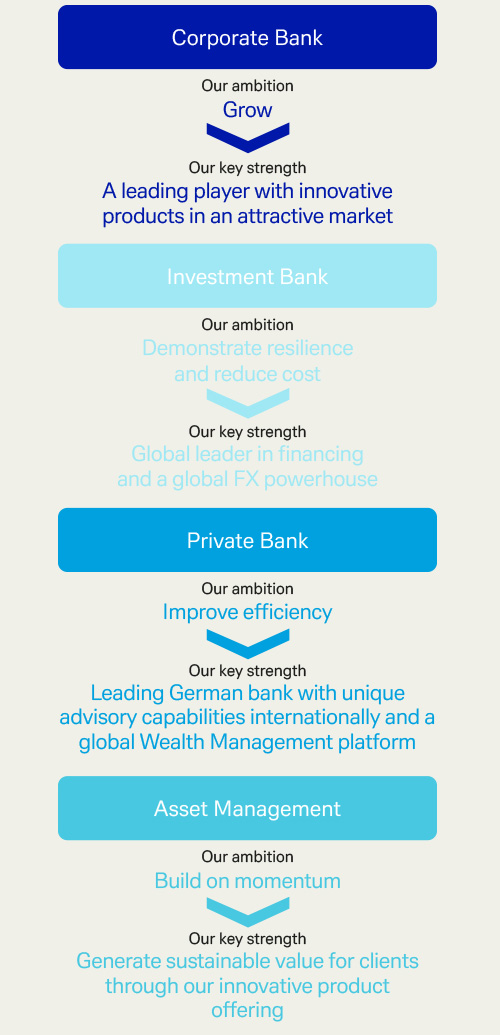 Our transformation is on track
Exiting businesses
We have completed or initiated the exit and wind-down of non-strategic businesses and assets:
Cash Equities positions have been exited and the associated systems have been shut down
Global Prime Finance and Electronic Equities businesses in the process of being transferred to BNP Paribas
Fixed Income and other assets are being reduced
Our Capital Release Unit (CRU) is a key facilitator for exiting non-strategic businesses and assets. As of Q2 2020, we have made further progress in deleveraging the CRU:
We have reduced risk-weighted assets to 43 billion euros.
Leverage exposure declined from 118 billion euros in the prior quarter to 102 billion euros at the end of Q2 2020.
Our progress:
Our Capital Release Unit reduced risk-weighted assets faster than expected while consuming fewer capital resources than anticipated.
Creating four client-centric divisions which cooperate more closely
We have created four client-centric businesses, competing to win – a Corporate Bank, an Investment Bank, a Private Bank and Asset Management – and have implemented new leadership teams across all businesses.
Our results in the first quarter of 2020 demonstrated that our core businesses are stable, and we have seen a positive momentum recently.:
Excluding specific items we managed to grow Core Bank revenues by 7 percent.
The adjusted pre-tax profit1 of the Core Bank grew by 32 percent to 1.1 billion euros compared to the previous year.
Credit volume grew by 25 billion euros in the first quarter. This represents a 6 percent increase.
Our progress:
Revenues were stable or higher at all four businesses of our Core Bank in the first quarter 2020.
Cutting costs
In the first quarter of 2020, we reduced adjusted costs excluding transformation charges and bank levies 2 to 4.9 billion euros. This marks a reduction of 7 percent compared to the previous year.
This means that we have seen the ninth consecutive quarter of annual cost reductions.3 We have also reduced headcount below 87,000 in Q1 2020.
Our progress:
Reduced costs for 10 consecutive quarters.
Investing in technology and growth
We are committed to investing in technology and will spend about 13 billion euros until 2022. This will go towards bolstering our cloud strategy as well as upgrading important legacy infrastructure and platforms that are vital for our day-to-day operations. In addition, we will use these funds to improve our offering for clients by developing innovative products and services for them.
Having a robust control environment will also become even more important in the future. That is why we are spending 4 billion euros on our controls by 2022.
Our progress:
IT strategy has been launched and is being executed with a new leadership team. We announced a strategic partnership with Google Cloud to drive a fundamental transformation of banking.
Managing and liberating capital
We are implementing our strategy on the basis of a strong and robust balance sheet. We said that we would target a CET-1 Ratio of minimum 12.5 percent throughout our transformation process. However, we made a conscious decision to, temporarily, let our CET-1 Ratio dip slighlty below 12.5%, should the demand for liquidity from our clients remain as high as right now. We need this room for manoeuvre in order to continue to strengthen our market position and be part of the solution in the economic recovery.
Our progress:
Our capital ratio (CET1) stood at 12.8% at the end of the first quarter 2020 - despite regulatory changes, the impact of the COVID-19 pandemic and our growth in business.
We reaffirm our financial targets
KPI
2022 target
2020 target
Progress as per end Q2 2020
Post-tax Return on Tangible Equity (RoTE)6
8%
CET1 ratio
at least 12.5%
At least
12.5%
13.3%
Adjusted costs4
€ 17bn
€19.5bn
5
Adjusted costs in the quarter stood at € 4.8bn 5
Leverage ratio (fully loaded)
~5%
~4.5%
4.2%
Risk-weighted Assets (RWA) in Capital Release Unit (CRU)
€ 34bn
-
€ 43bn, reduced by € 29bn since 2018