Strategy
Building on our foundation as a leading European Corporate Bank based in Europe's largest economy, we have transformed our business model. We operate where our clients want us to be and where we are competitive. As a result, we aim to become less complex and more profitable, improve shareholder returns and drive sustainable growth.
"Since 2018 we have consistently delivered or over-delivered against our targets. That remains our ambition. We will maintain our discipline on cost and risk management as we now enter the third phase of our transformation: sustainable revenue growth and profitability. We believe we're on the right track to achieve our return on tangible equity target in 2022."
Christian Sewing, CEO
Mission
Deutsche Bank is …
… a leading European Corporate Bank based in Europe's largest economy
… with strong investment banking, private banking, wealth and asset management capabilities
… aligned with the strengths of the German economy around trade and investment
… at the centre of its corporate, institutional and private clients' needs
… the risk manager and trusted advisor to its clients
We have taken five decisive actions …

... and have a clear plan for each of our divisions.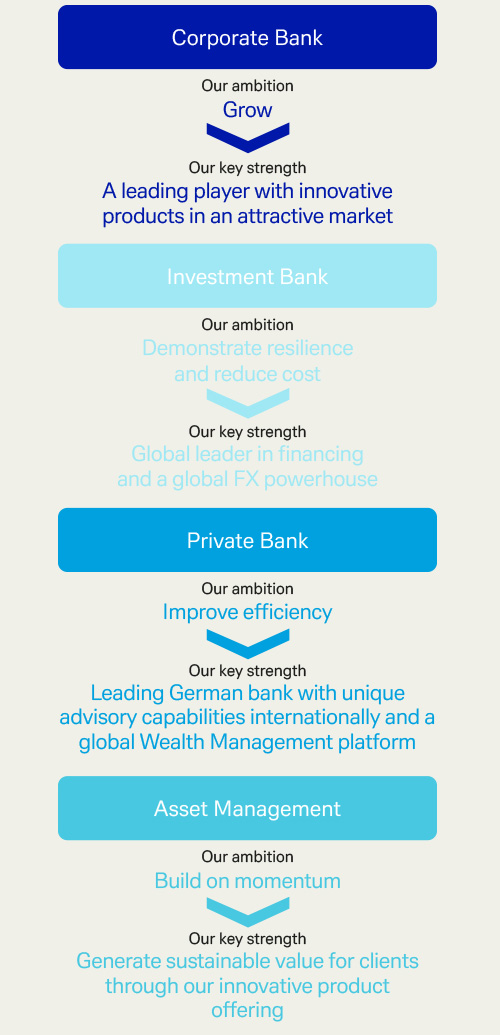 We are moving into phase 3 of our transformation
Ensuring sustainable profitability
We started our transformation journey in 2018. In the first phase we stabilized our bank, for example by reducing risks and bolstering our capital position.
Then in July 2019 we started phase two – the most fundamental transformation of Deutsche Bank in two decades. This transformation includes a new strategy and a new setup for our bank: We exited non-strategic businesses and assets and focused our bank on market-leading businesses. We also set ambitious financial targets.
Within 18 months, we have put the bulk of the actual transformation and restructuring work behind us. Having successfully re-focused our business model, we are gradually moving into phase 3 of our transformation. We will focus on ensuring sustainable profitability by growing our businesses while remaining disciplined on costs and capital.
Our progress:
By the end of 2020, we will have put 85% of the total transformation-related effects we anticipate between 2019 and 2022 behind us.
Four client-centric divisions, well-positioned to grow
We have created four client-centric businesses, competing to win – a Corporate Bank, an Investment Bank, a Private Bank and Asset Management – and have implemented new leadership teams across all businesses. Our results in the third quarter of 2020 demonstrated that our core businesses are stable and resilient, well-positioned to support our clients during challenging times like the COVID-19 crisis:
In the first nine months of 2020 we achieved year on year revenue growth of 8% in the Core Bank. We have won market share in important business areas.
In the first nine months of 2020, we helped clients raise debt financing worth almost 1.5 trillion euros, an increase of 21 percent compared to the full year of 2019.
Each one of our four businesses is well positioned to respond to structural trends that will shape our economy and drive growth in for the years until 2022 and beyond:
Economists expect an increase in demand for global financing due to high national debt levels as well as the immense investments in transforming the economy.
In an aging society, wealth preservation will become more pressing, in particular in times of negative interest rates when there are far fewer risk-free returns available.
Our deep local presence worldwide is more of an asset in a world of 'glocalization'. International companies need a strong partner with intimate regional and local knowledge.
Climate change and social tensions will lead to growing demand for sustainable finance products.
Our progress:
More than 70% of our revenues are generated in businesses where we are in a leading position.
Cutting costs
In the third quarter of 2020, adjusted costs excluding transformation charges (1) were down to 4.7 billion euros, a reduction of 10% compared to the previous year. We have delivered 11 consecutive quarters of adjusted cost reductions (2). This puts us well on track to meet our 2020 adjusted cost target of 19.5 billion euros (1).
Furthermore, we have identified additional cost-saving opportunities that allow us to lower our 2022 target for adjusted costs excluding transformation charges to 16.7 billion euros, from an original target of 17.0 billion euros.
Our progress:
We have reduced costs(2) year on year for 11 consecutive quarters and lowered our 2022 cost target further
Investing in technology and growth
We are committed to investing in technology and will spend about 13 billion euros from 2019 through 2022.
We aim to invest in four areas:
We will continue to invest in providing stable and secure technology solutions in order to maintain the resilience of our technology infrastructure.
Equally important is maintaining a robust control environment. We plan to spend at least 4 billion euros in our control functions from 2019 through 2022, for example to further improve transaction monitoring.
We will simplify and streamline our IT-landscape and focus investment to increase efficiency.
We will develop innovative products and services that will help our clients and unlock future growth.
We will speed up this development thanks to our global strategic partnership with Google Cloud. It will enhance our IT infrastructure into a more efficient, cloud-based environment that will enable us to focus more on innovation and client applications.
Our progress:
IT strategy has been launched and is being executed with a new leadership team. We signed a strategic partnership with Google Cloud to drive a fundamental transformation of banking.
Managing and liberating capital
We are implementing our strategy on the basis of a strong and robust balance sheet. We aim to maintain a CET1 ratio of at least 12.5% throughout our transformation.
Our CET1 ratio stood at 13.3% at the end of the third quarter 2020 – well ahead of regulatory requirements. The solid capital and liquidity position gives us scope to continue to deploy resources to support clients in these challenging conditions. We remain committed to return 5 billion euros of capital to shareholders from 2022.
The Capital Release Unit (CRU) has made an important contribution to our strong capital position. It has been a key facilitator for exiting non-strategic businesses and assets. As of Q3 2020, we have made further significant progress in deleveraging the CRU.
We reduced risk-weighted assets in the Capital Release Unit by 45% compared to 2018
Leverage exposure in the CRU declined from 102 billion euros at the end of Q2 2020 to 90 billion euros at the end of Q3 2020.
Our progress:
Our capital ratio (CET1) stood at 13.3 percent (285 basis points above regulatory requirements) at the end of the third quarter 2020 – despite regulatory changes, the impact of the COVID-19 pandemic and our growth in business.
Our Capital Release Unit reduced risk-weighted assets faster than expected while consuming fewer capital resources than anticipated.
We reaffirm our financial milestones
| Financial targets / plan | 2022 target | 2020 target | Progress as per end Q3 2020 |
| --- | --- | --- | --- |
| Post-tax Return on Tangible Equity (RoTE) | 8% | | |
| Group revenue plan | ~€ 24.4bn | | |
| CET1 ratio | at least 12.5% | at least 12.5% | 13.3% |
| Adjusted costs (1) | € 16.7bn | € 19.5bn | Adjusted costs in first nine months stood at € 14.9bn |
| Leverage ratio (fully loaded) | ~4.5% | ~4.5% | 4.4% |
| Risk-weighted Assets (RWA) in Capital Release Unit (CRU) | € 32bn | € 38bn | € 39bn |
| Distribution of capital to shareholders | € 5bn from 2022 | | |