Deutsche Bank report: Make way for the sun - India solar power investments could surpass that of coal
India has made an exceptional commitment to solar energy by raising its 2022 target five-fold to100GW and its renewable energy target to 175GW. The government has announced an unprecedented policy push and states are providing the necessary infrastructure. Annual investments in solar could surpass investment in coal by 2019 – 2020, with USD 35bn committed by global players.
For local IPPs, solar has to be an inherent part of their expansion strategy, as Reobligations become strictly enforceable and cost of coal power increases.
LCOE (Life-cycle cost of energy) of energy sources in India highlights attractiveness of solar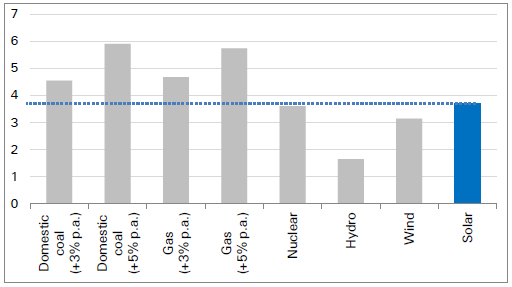 On Life-cycle Cost of Energy solar is competitive vs. thermal power, although it looks 30% more expensive initially.
Source: Deutsche Bank estimates
Click here to read the full report
Do you have questions about this topic? Please send your email to:

Abhishek Puri
Research Analyst
(+91) 22 7180 4214
abhishek.puri@db.com
Further links on the topic