Deutsche Bank recognised in 2017 Bloomberg Financial Services Gender-Equality Index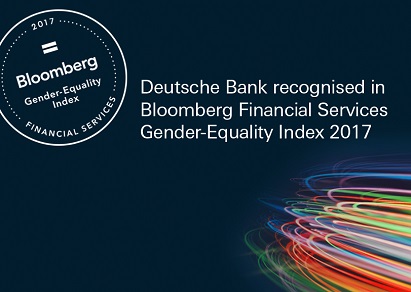 Deutsche Bank has once again been named in the Bloomberg Financial Services Gender-Equality Index (BFGEI).
The 2017 index recognises 52 firms that have made strong commitments to gender equality and is based on an evaluation of their gender statistics, employee policies, gender-conscious product offerings, as well as their external community support and engagement.
Over the past six years, Deutsche Bank has actively promoted equal participation of women and men. In 2011, the bank signed a voluntary declaration to substantially raise the proportion of female managers by the end of 2018.
Today, Deutsche Bank has two female senior executives on its Management Board, with Sylvie Matherat, Chief Regulatory Officer, and Kim Hammonds, Chief Operating Officer.
The bank continues to embed diversity and inclusion in all of its HR processes, from internal mobility and recruitment to bank-wide talent programmes, promotions and succession planning.
For further details on Deutsche Bank's Diversity & Inclusion agenda and statistics, please refer to the Diversity chapter in the bank's HR report.
Further links on the topic