Nicolas Moreau opens trading at the LSE to mark 10 years of Xtrackers ETFs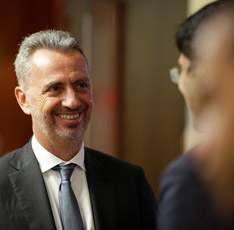 Nicolas Moreau (pictured, left), Head of Deutsche Asset Management and Member of the Management Board, opened trading on the London Stock Exchange (LSE) today to celebrate the 10-year anniversary of the listing of the first Xtrackers exchange-traded funds (ETFs).
Deutsche AM is the largest Europe-based provider of ETFs with multiple listings on the LSE. ETFs are listed mutual funds that combine the benefits of on-exchange trading with the diversity of an investment fund. They typically passively track investment indices.
Xtrackers has an extensive range of emerging markets ETFs and currency-hedged ETFs, and has been first to market in a number of areas – such as providing exposure to China's domestic A-shares market in ETF format, for example.
After the market opened, the LSE's chief executive Nikhil Rathi gave a short speech recognising a decade of successful Xtrackers ETFs listings at the exchange. This was followed by a short speech from Nicolas Moreau.
"We have been on a remarkable journey since the launch of those first ETFs back in 2007," said Moreau. "From humble beginnings, our Xtrackers ETFs and exchange-traded commodity ranges have grown in scale and scope, and today we are proud to be one of the leading European asset managers with these products."
He added: "We hope that the next 10 years will be even more successful than the last, and we look forward to a continued excellent relationship with the London Stock Exchange and to listing more of our ETFs here in the future."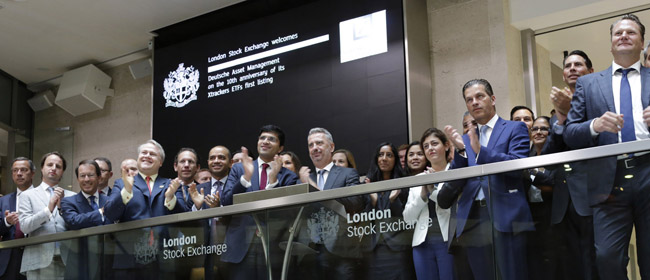 The opening ceremony at the London Stock Exchange