Today's misjudgement is tomorrow's opportunity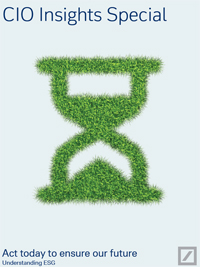 Investments risk being mispriced if social and ecological costs are not taken into account. Therefore, the window of opportunity to take advantage of the societal shift towards sustainable investments is now.
In a special report, the Wealth Management CIO team takes its first in-depth look at the opportunities of Environmental, Social and Governance (ESG) investments, and analyses why this subject is currently moving centre-stage. The team concludes by assessing the potential risks and pitfalls for investors in the ESG space.

The key conclusions are:
There is now a window of opportunity to tackle global social imbalances and environmental challenges through ESG;
Investors are becoming aware that socially responsible long term aims can be combined with attractive returns: this is not philanthropy;
Investors should look beyond equities when considering ESG investments e.g. to bonds;
Studies suggest that performance can meet or exceed comparable traditional investments.
For the full reports please click on the links.
Further links on the topic