Deutsche Bank becomes one of the first foreign banks to join China's NetsUnion Clearing Corporation network to support e-commerce payments
Deutsche Bank (China) Co., Ltd today announced that it has joined the NetsUnion Clearing Corporation's network (NUCC) to facilitate the e-wallet payments of its corporate clients.
Officially launched in 2018, NUCC is a critical component of China's financial infrastructure system. NUCC is the designated platform for all mobile payments and aims at standardizing mobile transactions, as well as providing transparency in the non-banking payments market.
After joining the NUCC network, which links e-wallet providers with participating banks, Deutsche Bank will be able to offer faster and more efficient collection solutions, enhancing its corporate cash management offering.
Dirk Lubig, Head of Global Transaction Banking China and Head of Corporate Cash Management Greater China at Deutsche Bank, said: "We are proud to be one of the first foreign banks to join the NUCC platform. It is a step forward as we continue to expand our service offering in China. As non-banking payments record staggering growth, Deutsche Bank is well positioned to meet the e-commerce payment needs of its corporate clients onshore."

For further information, please contact:
Deutsche Bank AG
Media Relations
Karène Dufour
Phone: +852 2203 7846
E-mail: karene.dufour@db.com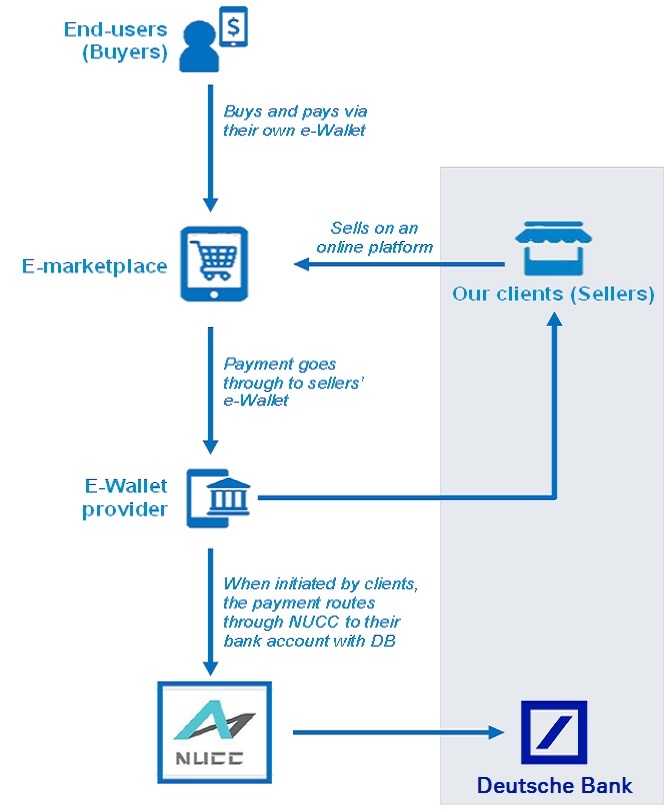 About Deutsche Bank
Deutsche Bank provides commercial and investment banking, retail banking, transaction banking and asset and wealth management products and services to corporations, governments, institutional investors, small and medium-sized businesses, and private individuals. Deutsche Bank is Germany's leading bank, with a strong position in Europe and a significant presence in the Americas and Asia Pacific.
This press release has been approved and/or communicated by Deutsche Bank AG or by its subsidiaries and/or affiliates ("DB"). Deutsche Bank AG is authorised under German Banking Law (competent authority: BaFin - Federal Financial Supervisory Authority) and by the Prudential Regulation Authority and subject to limited regulation by the Financial Conduct Authority and Prudential Regulation Authority.
Details about the extent of our authorisation and regulation by the Prudential Regulation Authority, and regulation by the Financial Conduct Authority are available from us on request. Securities and investment banking activities in the United States are performed by Deutsche Bank Securities Inc., member NYSE, NASD and SIPC, and its broker-dealer affiliates.
Lending and other commercial banking activities in the United States are performed by Deutsche Bank AG, and its banking affiliates. Copyright (C) 2019 Deutsche Bank AG
Further links on the topic