China's One Belt One Road initiative
Deutsche Bank's 3 billion US Dollar journey
Since its launch in 2013, China's One Belt One Road (OBOR) initiative, or Belt and Road Initiative (BRI), has been providing the framework for China's outbound trade and investment strategy. The initiative focuses on cooperation between Eurasian countries, primarily China, the land-based Silk Road Economic Belt and the oceangoing Maritime Silk Road.
In May 2017, China Development Bank (CDB) and Deutsche Bank signed a memorandum of understanding to work together over the next five years to support projects worth 3 billion US dollars – projects that open up business opportunities to our global clients in the infrastructure, commodities, and renewable energy sectors.
Deutsche Bank has strong partnerships with more than 3,500 financial institutions (FI) globally, of which around 350 are in China and include major Chinese banks. The bank's Trade Finance for Financial Institutions (TFFI) China team has played an active role in helping Chinese FI clients with their competitive guarantee reissuance and LC forfeiting businesses.
Most recent wins include the re-issue of a trade guarantee for approximately 100 million US dollars in February 2019 for a Chinese bank in a water project in Saudi Arabia. This follows a 240 million US dollar trade guarantee re-issuance in January 2019 for another Chinese bank in a combined cycle power station and desalination project in Bahrain.
Our buyer credit deal to finance the oil refinery facility in Kazakhstan in 2017 was named one of the top 10 European/Eurasian ECA Finance Deals of the Year.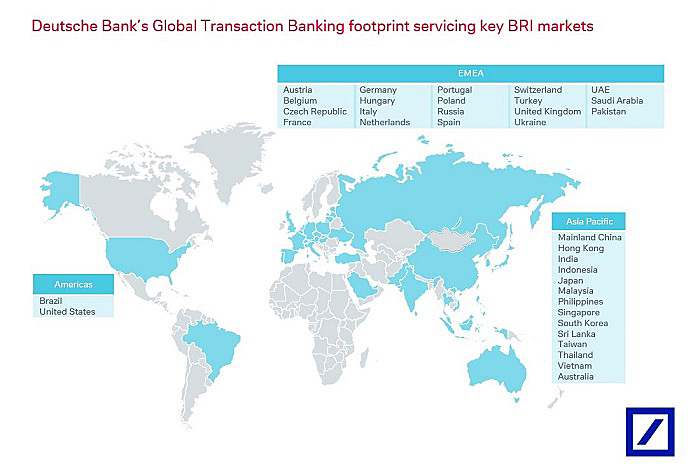 More about BRI
The strategic economic vision behind BRI is to increase cross-border trade and investment, and boost infrastructure along BRI routed countries. For clients in the infrastructure, commodities and renewable energy sectors, BRI offers many opportunities. Hunter Xiong, Head of Deutsche Bank's "Belt & Road Initiative" (BRI) office says: "Apart from China-based clients, many multinational clients have also shown strong interest in BRI-related business development opportunities."
Market demand to promote international market cooperation is increasing, Xiong says, and China's policy makers and industry players reportedly have strong incentives to develop BRI as an open platform to encourage more international support
According to Dirk Lubig, Head of GTB China, the Chinese government is reviewing and adjusting its BRI agenda, so we can expect a more level playing field for all global corporates, institutions, and banks like ours. If pulled off right, BRI can be a gamer changer for participating countries and market participants, Lubig adds.
Further links on the topic