Wealth Management is growing with "big investment push"
Fabrizio Campelli tells Reuters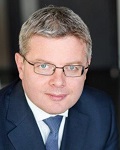 Deutsche Bank Wealth Management is growing with a "big investment push" that includes plans to hire an additional 300 client-facing staff by 2021, Global Head Fabrizio Campelli told Reuters in an interview.
The growth plan is in line with Deutsche Bank's announcement last year that it aims to increase its share of revenues from more stable sources such as wealth management to 65 percent by 2021.
The business aims to increase the number of Relationship Managers and Investment Managers by about one third each, spread across the Americas, Emerging Markets and European home market regions, Campelli said in the interview. The plans, which also include investing in existing people, systems and technology, focus on macro trends such as the rise in entrepreneurs, emerging market wealth and family offices.
"This drive to grow our business is now materialising with a big investment push," Campelli told Reuters.
"We need to increase significantly our client footprint, which means the net increase of client facing individuals needs to be material," he said.
Recent hires include Michael Rogers, who joined as the new head of the US West Coast business from Merrill Lynch, and Marco Pagliara from Goldman Sachs, the new head of Northern and Eastern European wealth management.
Further links on the topic