"Equities certainly aren't cheap," WM CIO Christian Nolting says on Bloomberg TV
Equities "certainly aren't cheap" and current levels are unlikely to be sustained, Christian Nolting, Global Chief Investment Officer for Deutsche Bank Wealth Management, said in an interview on Bloomberg Television's flagship Surveillance programme on Thursday.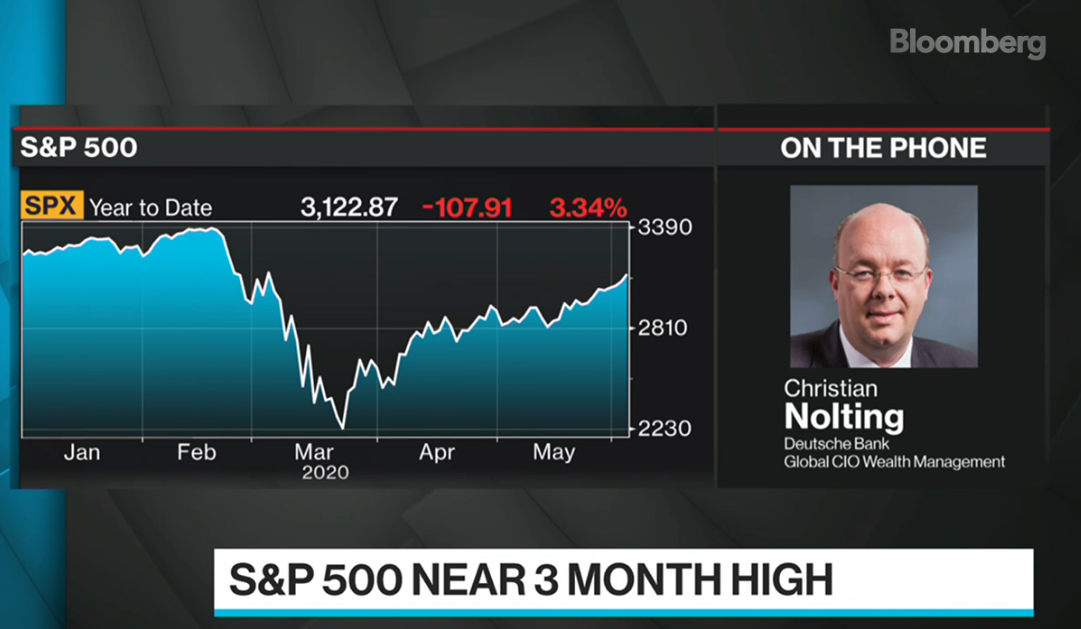 Investors are being cheered by the gradual reopening of economies as the coronavirus abates, along with the "very low interest rates" and significant fiscal measures introduced to support growth, he said. As a result, the US Standard & Poor's 500 index is trading at a price to earnings ratio as high as before the dot-com bubble in 2000 and European markets are not far behind.
"The market is pricing for a perfect V-shaped recovery and I would be very surprised if we see that happen," Nolting said in the phone interview. "I wouldn't be surprised if we see some setbacks probably in the next few months."
Nolting said the more likely overall global economic trajectory would be a "massive drop, then a substantial recovery" followed by growth at a lower level. In particular, employment is unlikely to recover even next year.
He noted that there has been a "massive rotation out of growth and into value" stocks in recent days. He recommended that investors maintain a "barbell" portfolio that includes value stocks with predictable cash flows, including materials and financials, but still retains stocks that promise secular growth, such as technology companies.