There is music in everyone!
The Education Programme of the Berliner Philharmoniker
Experiencing classical music, learning new forms of expression and overcoming barriers – these are the many opportunities offered by the Berliner Philharmoniker's Education Programme. Since the beginning of 2002, more than 65,000 children and young people have participated in numerous projects and discovered their own talents in the creative experience with music, song and dance.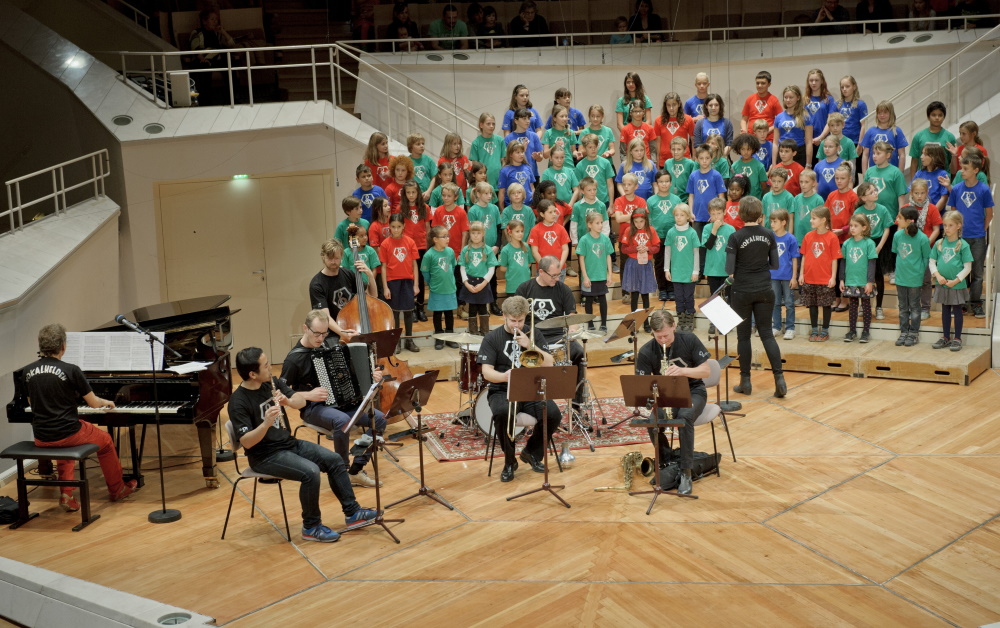 Singing with others is fun. It promotes team spirit and mutual respect, and boosts self-confidence.
The aim of the Berliner Philharmoniker's Vocal Heroes education project is to give children a strong voice. Kids in the Berlin districts of Moabit, Hellersdorf, and Schöneberg are invited to sing together. Anyone who is interested can take part.
Accompanied by choirmasters, pianists, and voice trainers, the young singers enter the world of classical music step by step. They unfold their creativity, become more self-confident, and learn how to be disciplined and show consideration for others.
Simon Halsey, a world-renowned choral conductor with many years of experience in community singing, was recruited as artistic director of the Vocal Heroes. The highlight of the project are the young choir's joint performances with the Berliner Philharmoniker.
You might also be interested in
Copyrights:
Art works: © VG Bild-Kunst, Bonn 2021, PalaisPopulaire: © Matthias Schormann, Artist of the Year: © Caline Aoun, Deutsche Bank Collection: © Photo: John Wildgoose, © Keith Tyson, Berliner Philharmoniker: © Monika Rittershaus, © Martin Walz, © Michael Trippel, English Theatre: Photo Christian Muth Junge Deutsche Philharmonie: Photo Achim Reissner, Musikgymnasium Schloss Belvedere: Photo Gerold Herzog, Deutsches Romantik-Museum: Photo Alexander Paul Englert, Akademie Musikgymnasium heute: © Jörn Kipping, Deutscher Buchpreis: © vntr.media, Opernstudio Frankfurt: © Wolfgang Runkel, Villa Romana: Photo Giulia Del Piero