A museum for the Romantic era
The Romantic era marks a key point in German and European history. The Romantik-Museum in Frankfurt, Germany, aims to open up this era to the public. Deutsche Bank supports this important project not only as a financial partner, but also through volunteer efforts of its employees.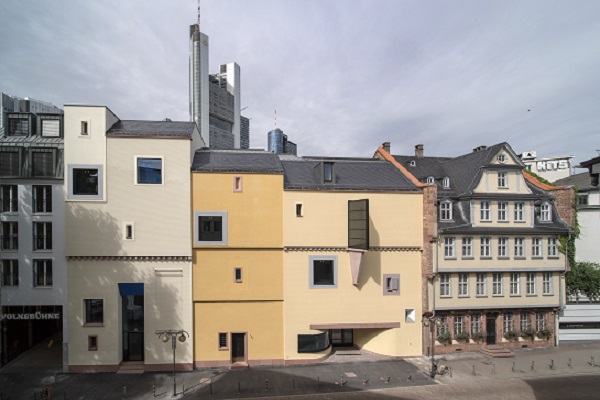 With the advent of Romanticism in Europe and Germany, artists cast off the ancient rules and forms of the Classical world and the rationalistic approach of the Enlightenment. In their stead, they turned towards their own cultural history with its colorful myths and fairytales. Nature, desire, the soul – these were some of the topics which the Romantics felt strongly about and from which they went on to create masterpieces of German literature and art.
A unique opportunity has now presented itself to make an impressive number of these works accessible to the public in Frankfurt, where they were stored in the archives of the Freies Deutsches Hochstift until now.
The building adjacent to the Goethe-Haus, the birthplace of Johann Wolfgang von Goethe, has been taken down, offering building space for a museum dedicated solely to the Romantic era, the German Romantik-Museum. Deutsche Bank has been a firm supporter of this project from its inception and has pledged 1.5 million Euros for the construction of the building.
Besides providing financial support, Deutsche Bank encourages employees to support this project. For instance, Deutsche Bank organized a festival for families together with 17 volunteers in and around the Goethe-Haus. The proceeds of this day were used for the Romantik Museum.
"The German Romantik-Museum allows us to close a significant gap in German museum culture. At the same time, its construction opens new perspectives for the Goethe-Haus in Frankfurt," explains Professor Dr. Anne Bohnenkamp-Renken, Director of Freies Deutsches Hochstift and Goethe-Museum Frankfurt.
You might also be interested in
Copyrights:
Art works: © VG Bild-Kunst, Bonn 2021, PalaisPopulaire: © Matthias Schormann, Artist of the Year: © Caline Aoun, Deutsche Bank Collection: © Photo: John Wildgoose, © Keith Tyson, Berliner Philharmoniker: © Monika Rittershaus, © Martin Walz, © Michael Trippel, English Theatre: Photo Christian Muth Junge Deutsche Philharmonie: Photo Achim Reissner, Musikgymnasium Schloss Belvedere: Photo Gerold Herzog, Deutsches Romantik-Museum: Photo Alexander Paul Englert, Akademie Musikgymnasium heute: © Jörn Kipping, Deutscher Buchpreis: © vntr.media, Opernstudio Frankfurt: © Wolfgang Runkel, Villa Romana: Photo Giulia Del Piero