A unique partnership
Deutsche Bank and Berliner Philharmoniker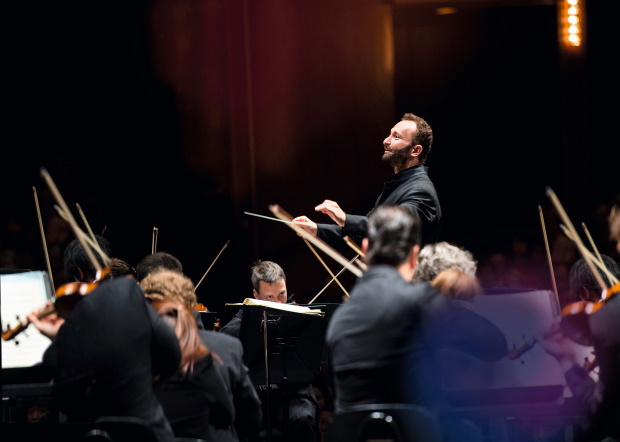 Deutsche Bank's and the Berliner Philharmoniker's exclusive partnership of more than 30 years is one of a kind in the world. As in every partnership, we share ambitions and passion for our causes. Since its foundation, the Berliner Philharmoniker has been considered one of the world's best orchestras, captivating audiences on all continents. Outstanding performance coupled with commitment and innovation are unique attributes that make the Berliner Philharmoniker an ideal partner for Deutsche Bank.
In August 2019, Deutsche Bank and Berliner Philharmoniker had extended their partnership by another five years until 2025. This enables us to continue and further develop our joint projects and work towards our shared mission – overcoming borders and making classical music accessible to a wide audience.
For instance, the bank supported the unique Digital Concert Hall during its early years, making it possible to live stream the concerts from the Berliner Philharmoniker in brilliant resolution and tone quality via the Internet.
The Berliner Philharmoniker's Education Programme shows how boundaries can be overcome. Since 2002, this important initiative has helped children and young people discover classical music.
The creative encounter with music helps them develop their own creativity, overcome personal and cultural boundaries and learn team spirit. The new project "Vokalhelden", vocal heroes, is the new focus of the Education Programme since early 2013. It gives young singers an opportunity to create music together.
Any time and any place: The Berliner Philharmoniker's Digital Concert Hall
The Digital Concert Hall opens the doors to the Berliner Philharmoniker for music lovers around the globe. Highly sensitive microphones and remote cameras transmit the concerts live via the Internet in excellent sound and high-resolution image quality. More than 600 concerts are currently available in the Digital Concert Hall database, which reaches over one million registered users from all over the world.
You might also be interested in
Copyrights:
Art works: © VG Bild-Kunst, Bonn 2021, PalaisPopulaire: © Matthias Schormann, Artist of the Year: © Caline Aoun, Deutsche Bank Collection: © Photo: John Wildgoose, © Keith Tyson, Berliner Philharmoniker: © Monika Rittershaus, © Martin Walz, © Michael Trippel, English Theatre: Photo Christian Muth Junge Deutsche Philharmonie: Photo Achim Reissner, Musikgymnasium Schloss Belvedere: Photo Gerold Herzog, Deutsches Romantik-Museum: Photo Alexander Paul Englert, Akademie Musikgymnasium heute: © Jörn Kipping, Deutscher Buchpreis: © vntr.media, Opernstudio Frankfurt: © Wolfgang Runkel, Villa Romana: Photo Giulia Del Piero