Made for Good
Made in Germany
The Global Goals Lab
The 2030 Agenda for Sustainable Development, adopted by all United Nations Member States in 2015, provides a shared blueprint for peace and prosperity. It addresses key challenges for people and the planet, inviting nations, private sector companies, the public sector and individuals to engage in a global partnership around the 17 Sustainable Development Goals (SDGs), which include ending poverty, promoting quality education and gender equality, and taking climate action.
Deutsche Bank and Social Impact launched the Global Goals Lab in 2018 to connect people and initiatives that promote sustainable development and thus contribute to the achievement of the 17 SDGs. "Whether they are early-stage businesses or established social enterprises – in the Global Goals Lab we support them with advice, better access to networks and new sources of funding," says Alexander Gallas, Deutsche Bank's Head of Corporate Social Responsibility Germany.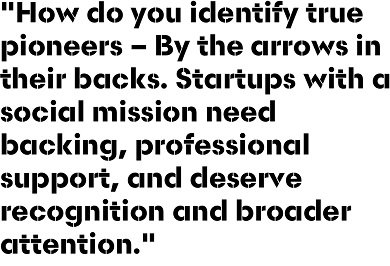 Eckart von Hirschhausen
Joining together for success
Each year, the programme focuses on selected development goals: 2019/20 is all about "For more responsible consumption and climate action" (SDGs 12 and 13), the year before the motto was "For more inclusion and more equality of opportunity" (SDGs 4, 5 and 11).
The Future Camp (Zukunftscamp) kicks off the Global Goals Lab series: social entrepreneurs and experts from business, academia and welfare connect and exchange ideas. During the Global Goals Challenge, nine social enterprises, preselected by a jury, are coached by experts in a four-day workshop to help them tackle their specific challenges.
Deutsche Bank employees share their expertise and support the start-ups as mentors. This is a very intense experience for the social entrepreneurs: "This workshop was very inspiring and successful – but we learned how important focus is. Especially during the growth phase, not everything can be done at the same time. That is why external feedback is really helpful," says Jan Wulf-Schnabel from the Institute for Inclusive Education.
Coaching

Deutsche Bank employees volunteered ~14,000 hours worldwide to advise social projects or startups in 2019.
Fired up by ideas
Six initiatives qualify and can pitch for Deutsche Bank's Impact Fund prize. It is one of top three recognitions for social entrepreneurship in Germany and has been awarded since 2016. Michael Kaps, Market Area Manager Corporate Clients at Deutsche Bank Bonn Aachen and jury member 2019 describes it in a nutshell: "I am thrilled to see how fired up the finalists are by their ideas and how they implement their concepts in such a professional manner. The Impact Fund is our positive contribution to help them scale their initiatives and develop them further."
Even beyond the Impact Fund and the workshops, Deutsche Bank employees also support social enterprises and charities with expert advice and coaching –to the benefit of all involved. Since 2012, Deutsche Bank colleagues have helped more than 1,300 initiatives implement their ideas or expand their offering by volunteering as judges or coaches in the startsocial competition.
Some of the prize-winning initiatives have become long-standing partners of Deutsche Bank – such as "Start with a Friend" (Federal Winner 2015/16), "Über den Tellerrand" (Shortlisted for the Federal Prize, 2016), "Heimatsucher" (Special Prize of the Federal Chancellor 2016) and "Wolfsträne" (Special Prize of the Federal Chancellor 2018).
More information about Global Goals Lab and startsocial (only in German):
You may also be interested in