Made for Good
Made in Italy
Cometa Formazione
Italian craftsmanship is acknowledged throughout the world. For centuries, the know-how and passion of the designers and makers of textiles and furniture has been passed from one generation to the next. But the future of these crafts is under threat.
Even though demand for Italian handmade goods is growing, especially internationally, the sector struggles to attract new blood. Social trends are a factor. In the eyes of young people, manual work, however skilled, does not have the prestige of a university qualification or the prospects that come with working for a multinational company.
That perception overlooks a truth that has enabled these crafts to endure for so long: makers are true entrepreneurs and innovators. By thinking strategically and blending the traditional with new ideas, small artisanal businesses have been able to not only survive, but grow. So at time of high youth unemployment in Italy, Deutsche Bank Italy Foundation is working in partnership with Cometa Formazione to encourage the next generation to make a future from tradition.
Key achievements

Annual student intake at the Oliver Twist School.
Changing young lives
Find out more about our Corporate Citizenship programme for young people, Born to Be
Oliver Twist School
Support from Deutsche Bank helps Cometa Formazione run the Oliver Twist School, which brings new thinking to vocational training in traditional crafts. The Wood Workshop project is a three-year programme that teaches 100 students the disciplines of how to run a business as well as work with wood. Professional placements and internships provide students with hands-on commercial experience.
The Wood Workshop is supported by Deutsche Bank volunteers who give their time as mentors and judges. The best projects each year are chosen to show at the renowned Il Salone del Mobile international design fair in Milan. The fair enables students to meet potential partners and investors who can support their business ideas.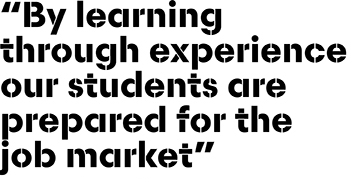 Erasmo Figini, founder of Cometa
You might also be interested in