Deutsche Bank recognised as leader in corporate social media communications
Deutsche Bank is at the forefront of corporate social media communications activities among the world's 20 largest banks and wealth managers, a study by MyPrivateBanking Research found.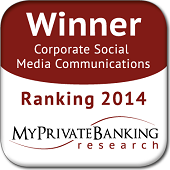 For the report – entitled "Social Media for Banking and Wealth Management 2014: The Gap is Widening" – the Swiss research company's technology and industry experts conducted a detailed analysis of the strengths and weaknesses of the social media presences of the surveyed institutes. Deutsche Bank received the highest overall score in the category Corporate Social Media Communications.
Evaluating a total of 77 criteria, the social media activities of each bank were ranked based on their presence on Facebook, Twitter, LinkedIn, YouTube, Google+, Pinterest, Instagram and Flickr. In addition, the report covered other aspects, such as banks' responsiveness.
Deutsche Bank's corporate channels continued to grow in 2014: the Bank currently has around 150,000 followers on Twitter, as well as 90,000 fans on Facebook. In addition, its corporate videos on YouTube have generated 3.8 million views so far. and the Bank's images on Flickr have generated more than 1.4 million views.
MyPrivateBanking Research is an independent firm specialising in research and analysis on how financial services firms should develop their websites, social media presence and mobile apps.
Further links on the topic