Blockchain: potential areas of application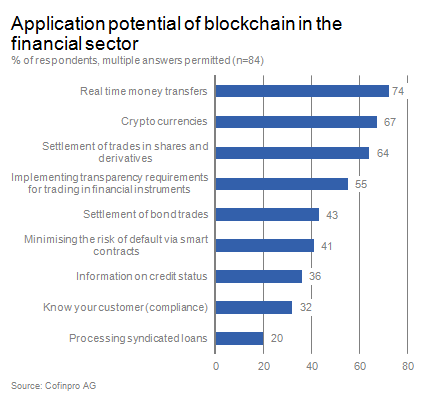 Are you already experimenting with blockchain?
No?
Then it may be worth taking a look at this digital technology and its potential areas of application. Alongside unsupervised learning algorithms and early cognitive systems, blockchain is an example of a digital technology that not only calls tried-and-tested business models into question, but is already turning them on their head. It may have its origins in the financial sector, but a universal spectrum of applications is beginning to open up both within and outside the fintech world.
Those who have tried experimenting with digital technologies have quickly found that in many cases they make existing business models, processes and infrastructures noticeably more efficient and thus increase productivity.
This has certainly been the case with blockchain, which is why it is a good idea for many decision makers (not only) in the financial sector to keep a close eye on developments and, above all, the various experiments with blockchain that are currently ongoing. Ideally they would experiment with various projects and pilot studies themselves in order to come up with their own ideas and try putting these into practice.