Sylvie Matherat becomes Vice Chair of The Global Financial Markets Association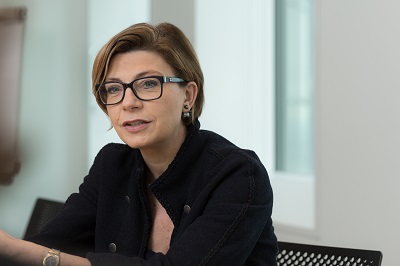 Sylvie Matherat, Member of the Management Board and Chief Regulatory Officer, has been announced as the newly elected Vice Chair of the Global Financial Markets Association (GFMA). In this newly created position, approved by the GFMA Board of Directors, Matherat will, in addition to her current role at Deutsche Bank, be part of the GFMA's leadership team for a two-year term.
The Global Markets Financial Association (GFMA) represents the common interests of the world´s leading financial and capital markets participants. The GFMA brings together three of the world's largest financial trade associations to address the increasingly important global regulatory agenda and to promote coordinated advocacy efforts: the Association for Financial Markets in Europe (AFME), the Asia Securities Industry & Financial Markets Association (ASIFMA) and, in the United States, the Securities Industry and Financial Markets Association (SIFMA).
Sylvie Matherat's appointment will play an important role in the vital work of GFMA going forward, the GFMA said in its press release. It underlined, that while new regulations are intended to improve the global financial stability it is imperative they do not also impede the flow of capital to industries and economies.