startsocial awards ceremony at Federal Chancellery in Berlin
German Federal Chancellor Angela Merkel praised the outstanding commitment, organizational talent and passion of this year's startsocial finalists which stand as a prototypical role-model for so many other volunteers.
The startsocial competition is part of Deutsche Bank's Made for Good enterprise programme for social good. startsocial attracts around 400 social start-ups, charities or initiatives each year who apply for coaching scholarships. Some 300 Deutsche Bank employees have already volunteered as jurors or coaches since 2012. Six of them have supported one of the 25 finalists in 2016/2017.

This year's special award of the Federal Chancellor went to the Hamburg-based initiative Hanseatic Help e.V. that provides refugees, homeless people and orphanages with clothing and items for daily use and even ships supplies to other refugee camps and conflict areas.

Christian Sewing, Deutsche Bank President and Head of the Private & Commercial Bank, emphasized the impact of Bike Bridge, a project in Southern Germany that organises cycling lessons for migrant and refugee women and girls, fostering their integration in the local community.
"It only takes a few people, a clear vision, and strong commitment to make a difference," Sewing highlighted in his introduction for the prize winner.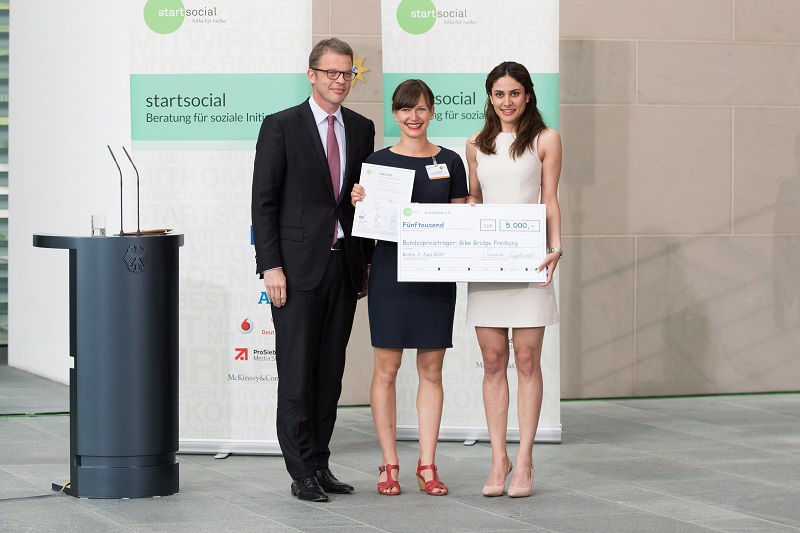 Further links on the topic