US economy risks 'overheating'
The US economy is at risk of overheating, Christian Nolting, Chief Investment Officer for Deutsche Bank Wealth Management, said in a television interview on Bloomberg yesterday.
The markets are becoming more volatile in part because of concerns that the US Federal Reserve may have to raise interest rates to curb inflationary pressures, Nolting said.
"There's certainly a risk that the economy is overheating," because of pressures including the tax reforms and infrastructure programme, Nolting said.
Even so, Deutsche Bank Wealth Management's investment advisors do not think that inflation will return very quickly, he said. Inflation is mostly driven by expectations which in turn are mainly driven by wages. Meanwhile productivity is increasing but not as fast as in the past.
"We need to watch it, but we don't need to completely change the inflation picture," the CIO said.
Click image below to watch the interview.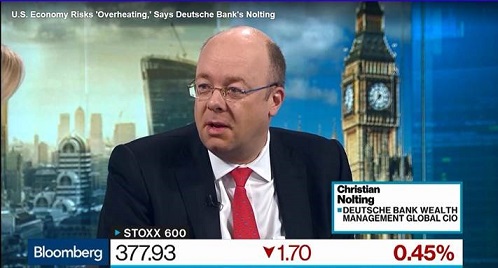 Further links on the topic