How can we promote better education? Strengthen neighborhoods? Enable inclusion? More than 80 social entrepreneurs, experts and academics met in Frankfurt to discuss ideas and solutions to pressing societal challenges – bringing the Sustainable Development Goal "Partnership" to life.
"The event marked the kick-off for the new Global Goals Lab series, our latest Made for Good enterprise programme. Together with our valued partner Social Impact, it bundles previous modules available to social entrepreneurs, aligns them with our own CSR agenda as well as the UN Agenda 2030 – a plan of action to shift the world onto a more sustainable and resilient path", says Alexander Gallas, Head of Corporate Social Responsibility Germany.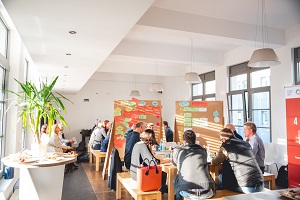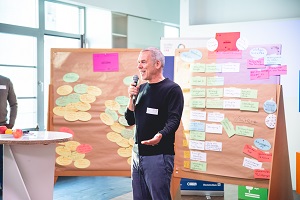 Stay tuned: In late November, eight selected social enterprises will meet for the next module of the Gobal Goals Lab near Berlin to further fine-tune their business portfolio – again with the help of dedicated experts, among them many Deutsche Bank volunteers. All participants can then apply for the Global Goals Impact Fund and engage as many fans as they can in an online voting before an expert jury picks six finalists who can pitch for non-repayable grants in February 2019 in Bonn.
More about the Global Goals Lab and the UN Sustainable Development Goals: www.globalgoalslab.eu
Background
Every November, the Global Entrepreneurship Week (GEW) inspires people to explore their potential as self-starters and innovators. With the Global Goals Lab series, we empower mission-driven enterprises that promote education, foster integration and strengthen local communities.
Made for Good, Deutsche Bank's enterprise programme supports entrepreneurial ventures that create wider social good by exploring solutions for societal problems, mapping routes out of poverty and contributing to economic growth. Some 12,000 start-ups and early-stage social businesses in 33 countries have benefited from business advice, mentoring and training from volunteers, access to networks and financing since 2016.
Further links on the topic