Traton – Deutsche Bank on board for the biggest IPO so far this year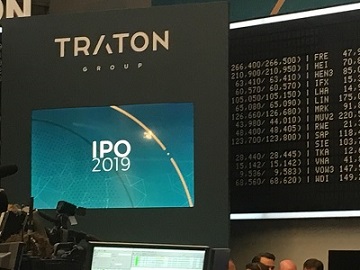 The time has finally come: at 9:15 Andreas Renschler, Chief Executive Officer of TRATON SE, rings the bell on the floor of the Frankfurt stock exchange. Theodor Weimer, CEO of Deutsche Börse, is also there to acknowledge the significant moment.
TRATON SE is one of the world's leading truck makers with its MAN, Scania, RIO and Volkswagen Caminhões e Ônibus brands – and it is now listed on the stock exchange with the German securities identification (TRAT0N).
So far this year, this is the largest initial public offering in Germany's regulated "prime standard" segment and the second largest in Europe. On the Swedish stock exchange it was the largest IPO for no less than 20 years. Deutsche Bank acted as a lead manager on this transaction in a difficult market environment.
Its client, "TRATON Societas Europaea" (SE), is a subsidiary of Volkswagen AG. Its brands supplied the markets with some 233,000 vehicles in 2018. Besides trucks and buses the company also supplies light commercial vehicles that are produced at 29 facilities in 17 countries – by around 81,000 employees (as of December 31, 2018). The company describes itself as a "newcomer with the attributes of a start-up" and the extensive experience of its brands. These features are key to reinventing transportation, the company claims.