Henry Street Settlement operates 24/7 to deliver food and essential services in NYC
Henry Street Settlement is one of New York's oldest social service agencies and a partner of Deutsche Bank Americas Foundation since 1998. It reaches thousands of underserved individuals and families every day through job-readiness training, senior care, educational programming and temporary housing with on-site supportive services.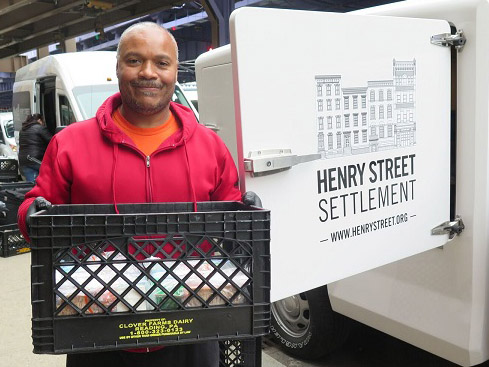 As the COVID-19 crisis continues, Henry Street is now operating 24/7 to deliver food and essential services to their existing homeless shelters, supportive housing residents and senior centers – and Wi-Fi-enabled iPads for children in shelters to access educational and mental health services.
Reaffirming their commitment to "listening to and learning from our neighbors," they launched the Henry Street Helpline to expand their support to all New Yorkers most pressing needs. The feedback received from this helpline will strengthen their response and support their social services and education partners.
In mid-April, they will launch the Emergency Cash Assistance Program to support those who have lost income or face significant financial hardship as a result of the crisis.
For staff on the front lines of this response, Henry Street is providing emergency childcare stipends during school closures.
"The world has changed so much so quickly and it's been intensifying for us on the Lower East Side and in the Henry Street community with every passing day," said David Garza, President and CEO, Henry Street. "We know that every household we serve will have suffered a loss; some will have lost their health, some will have lost their job, some will have lost their home, and some will have lost a loved one."
Henry Street is also part of a multi-year, multi-million-dollar Deutsche Bank commitment to address the educational needs of homeless students in New York City.
About Henry Street
Henry Street Settlement is one of the selected partners that benefits from our Corporate Social Responsibility Covid-19 relief campaign, which encourages all Deutsche Bank employees to support food and shelter charities that serve their most vulnerable neighbours, including low-income children and families, the elderly, and individuals experiencing homelessness.
The bank has set the ball rolling with a total of 500,000 euro in up-front donations to these long-standing CSR partner charities and will match all employee donations towards them.
Further links on the topic