Past meets future: Deutsche Bank Park
Together with the football club Eintracht Frankfurt, we want to create a place that reflects the open-mindedness and individual character of the city, the club, and our company. We are not only creating a place for emotions, but also building a bridge between competitive and mass sports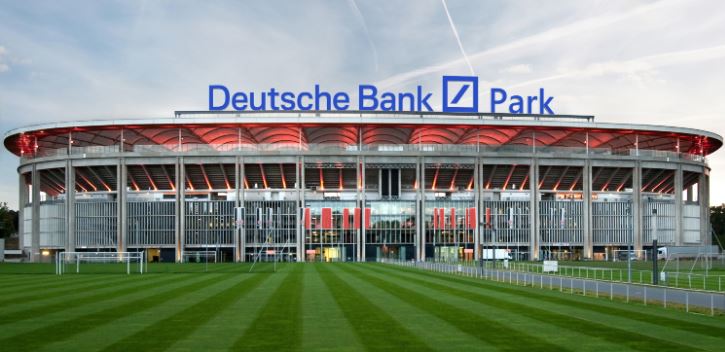 Deutsche Bank was founded 150 years ago to promote economic growth and progress. Since its foundation, we have supported and driven infrastructure projects. With this partnership, we are not only investing in competitive and popular sports, but also, together with Eintracht Frankfurt, in the region and the people who live here.
As of July 2020, the entire area in Frankfurt's municipal forest will be given the name Deutsche Bank Park, encompassing the stadium, a park open to the public, the "Arena of IoT" digital center, the training ground, and the new Eintracht office.

The aim of the partnership with Eintracht Frankfurt is to design the park, expand and modernize the stadium, and grow the digital infrastructure. You can look forward to what is still to come.
Deutsche Bank Park—with the stadium as its center—is to become a meeting place for people from the region and beyond. A place for emotions and passion. It is open to every social class and thus reflects the cosmopolitanism and individual character of the city, the club, and the company.
In this way, we are reaffirming the goal of our social commitment to strengthen people and the local economy. Together with Eintracht, we are giving everyone access to a sports facility that is not just for football.
Copyrights:
Art works: © VG Bild-Kunst, Bonn 2021, PalaisPopulaire: © Matthias Schormann, Artist of the Year: © Caline Aoun, Deutsche Bank Collection: © Photo: John Wildgoose, © Keith Tyson, Berliner Philharmoniker: © Monika Rittershaus, © Martin Walz, © Michael Trippel, English Theatre: Photo Christian Muth Junge Deutsche Philharmonie: Photo Achim Reissner, Musikgymnasium Schloss Belvedere: Photo Gerold Herzog, Deutsches Romantik-Museum: Photo Alexander Paul Englert, Akademie Musikgymnasium heute: © Jörn Kipping, Deutscher Buchpreis: © vntr.media, Opernstudio Frankfurt: © Wolfgang Runkel, Villa Romana: Photo Giulia Del Piero