Berliner Philharmoniker "Open Air 2016"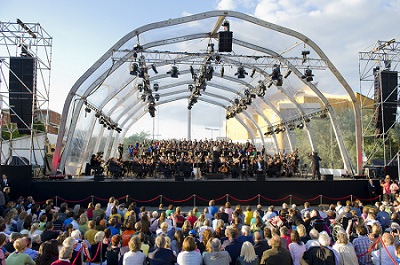 In addition to the traditional opening concert in the Philharmonie on August 26, the Berliner Philharmoniker, together with Deutsche Bank, are welcoming the new season at the Kulturforum: on August 27, 2016, you are invited to a free, open-air event from 16:00 in front of the Berliner Philharmonie. Under the direction of Sir Simon Rattle, the Berliner Philharmoniker will present Johannes Brahms' Second Symphony and Antonín Dvořák's Slavonic Dances.
Continuing its commitment to refugees, the Philharmoniker have also invited the Syrian Expat Philharmonic Orchestra under the direction of its conductor Mariano Domingo, who will open the concert as a musical symbol against the war and to promote international understanding. The ensemble is composed of Syrian musicians who have now found a new home in several European countries.
Useful information:
16:00 Concert by the Syrian Expat Philharmonic Orchestra
17:00 Singalong event
18:00 Concert by the Berliner Philharmoniker

Free admission
No entry tickets

Sale of food and beverages from 15:00
Contact:
Claudia Schmidt-Matthiesen
claudia.schmidt-matthiesen@db.com
Foto: © Monika Rittershaus
Further links on the topic