What Brexit would mean for regional and cohesion policies in Europe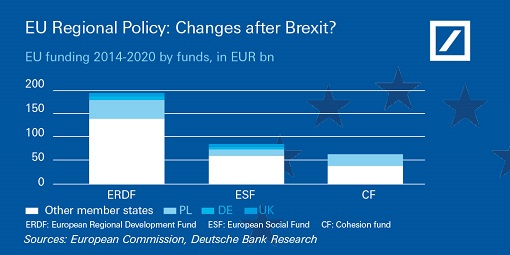 Regional and cohesion policy accounts for about a third of the EU budget. It is a major spending item and the EU's main investment policy. Up until now, the UK has contributed to the budget and UK regions received funds.
Also, macro-economic averages used to determine eligibility for funds are based on the EU28. Thus, Brexit could mean losing a net contributor to the budget, UK regions as recipients and adjustments to economic averages for an EU27. However, the effects are highly contingent on the timing of Brexit and the planning processes and preparations for the new EU budget beyond 2020.
The biggest stakes are potential changes to the structural funds which invest all across the EU. Here, changes need to be assessed region by region and against the background of Brexit arrangements yet to be defined. For the cohesion fund, we expect continuity.
For the UK one of the key challenges is to map out what a renationalised regional policy is going to look like. This includes funding and definition of priorities but also drawing up new programmes and scale up capacities to administer them.
For the EU27, given that Brexit may take place within the current Multiannual Financial Framework, the upcoming years may prompt the need for further discussions and revisions in addition to the routine steps of EU budgetary planning. Beyond adjustments, Brexit may well stimulate the discussion about the design and effectiveness of EU regional transfers and strategies to best support convergence.
Finally, there is the issue of possible future cooperation between the EU27 and the UK after a Brexit. In principle, regional policy programmes already provide for some options here, e.g. as part of cross-border cooperation programmes. However, the specific arrangements and conditions are only going to be defined as part of the negotiations to structure the new relationship.