Frieze Art Fair: 2016 Deutsche Bank once again promotes contemporary art as main sponsor
For the thirteenth year running, Deutsche Bank is the main sponsor of Frieze Art Fair being held in London from October 6 to 9, 2016.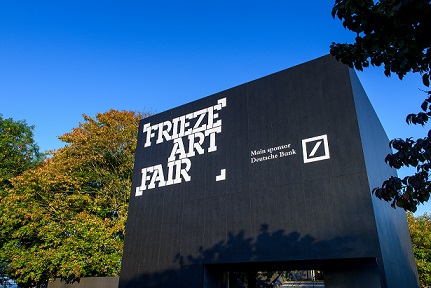 In a short space of time, Frieze Art Fair has developed into one of the most important international art events. Held in London's Regent's Park, the fair has provided a platform for Deutsche Bank to present works from its substantial collection. The bank has also supported Frieze Masters London and Frieze New York since their inception in 2013.
Fabrizio Campelli, Head of Deutsche Bank Wealth Management, said: "We are delighted to continue our support of Frieze London and the great work they do in bringing together artists to connect and inspire our people, our clients and the communities in which we do business together. Supporting art and art education is a long-standing belief of ours which we share passionately with our clients."
This year, Deutsche Bank's Frieze Lounge will display works by the Indian artist Sarnath Banerjee. Based in Delhi and Berlin, Banerjee is a graphic novelist, artist and film maker. He is currently creating more than 80 large-scale works on wallpaper for Deutsche Bank's new London offices, entitled An Encounter with Sir Thomas Browne and other Commonplace Utopias, some of which will appear in the lounge.
Representing more than 5,000 artists from over 40 countries, the Deutsche Bank Collection is one of the world's most important collections of contemporary artworks on paper and photography. The works the bank has acquired and commissioned over the past 35 years are displayed in over 900 locations throughout the world. The bank's art collection in London consists of over 4,000 contemporary works on paper, as well as major paintings and sculptures by artists such as Damien Hirst, Anish Kapoor, Tony Cragg and Keith Tyson.
Deutsche Bank works together with museums, art fairs and other cultural institutions. Through its KunstHalle in Berlin, the bank's print and online magazine ArtMag, and touring exhibitions, Deutsche Bank enables thousands of people every year to appreciate contemporary art and gain an insight into the international art scene.
The Deutsche Bank 'Artist of the Year' programme has helped provide a platform for artists such as Wangechi Mutu, Yto Barrada and Imran Qureshi. The bank's current Artist of the Year is Egyptian artist Basim Madgy. The artist selected for 2017 is South African Kemang Wa Lehulere.
In April 2016, Deutsche Bank united its activities in support of Art, Culture & Sport (ACS) into one independent unit. Thorsten Strauß, with global responsibility for ACS: "The new area bundles the bank's existing know-how and takes it a step further. Our aim is to provide clients, staff and the general public with programs and platforms to interact and experience aspects of today's culture."
Further links on the topic