We all know that water is essential for life but it's also indispensable for our economies. This is the cue for banks to play their part in adding more of the essential blue to their green mix. Will greater investment in water resources make for a more sustainable future?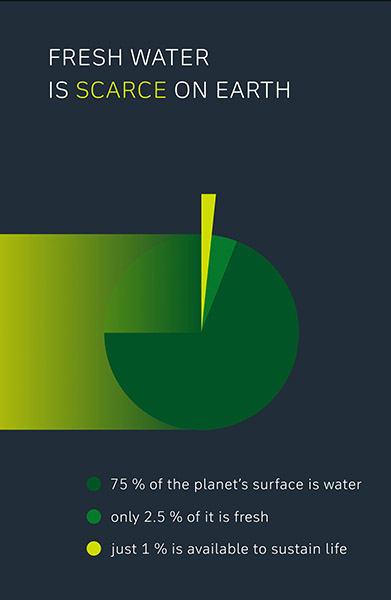 To better understand what "Responsible Growth" really means in all areas of sustainability, WHAT NEXT is taking a closer look at water.
If we are to build sustainable cities, convert to clean energy, combat climate change, improve education, and ensure sustainable production and consumption patterns, then we must focus more on this precious resource.
Join us as we explore things like the risks and rewards of investing in water, the Blue Economy, Deutsche Bank's own sustainability efforts in this area and how we are helping our clients, for instance by financing a water infrastructure project in East Africa.
As a special feature, we also include an opinion piece from esteemed primatologist and anthropologist, Jane Goodall, on the interconnectivity of all life forms.

Enormous water-related losses to the global economy
As recently as 2017, the WHO and UNICEF estimated that 2.1 billion people still lacked access to safely managed drinking water services and 4.5 billion lacked access to sanitation.
The result: poorer living environments with higher rates of illness, less access to education and lower career prospects as well as low levels of productivity and income. Without proper access to water, economic progress is thwarted, creating cycles of poverty.
But it's not just about access to water, it's also about protecting the little water we have for drinking, washing and farming. And it's about protecting ourselves, for instance from the effects of flooding. In its environmental policy paper published March 2018, the OECD quoted an analysis by the World Bank in 2016 that estimated GDP could drop by as much as six percent by 2050 as a result of water-related losses in agriculture, health, income and property, leading to sustained negative growth in some regions of the world.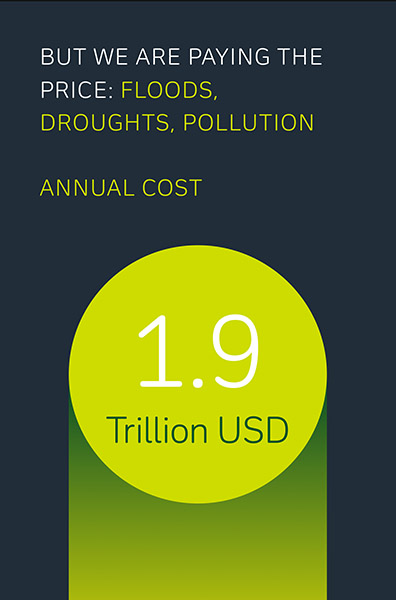 According to the OECD, the global economy loses 260 billion US dollars per year from inadequate water supply and sanitation and 120 billion US dollars per year from urban property flood damages.
It puts the global annual cost of water insecurity to existing irrigators at 94 billion US dollars.

Massive global financing needs
In the same paper, the OECD stated that to achieve United Nations Sustainability Development Goal 6 – Ensure availability and sustainable management of water and sanitation for all – by 2030, we will need three times the current investment in water.
It continues: global financing needs for water infrastructure range from 6.7 trillion by 2030 to 22.6 trillion US dollars by 2050 – and that doesn't cover the development of water resources for irrigation or energy.

Banks have an important part to play
By financing projects that benefit people, communities, the environment and economies. By advising our clients, stakeholders and governments, and guiding them towards a sustainable investment in water. By translating the economic need for water investment into beneficial business streams for investors. By driving the necessary investments to improve water management and water security. By scaling up financing flows for water.
All these are ways in which the financial industry can help protect this precious resource – and ultimately achieve greater economic stability and fair access to safe and affordable drinking water for all people.